Experience Walgreens
The statutory intent of the 340B Drug Pricing Program is to enable Covered Entities to stretch scarce federal resources as far as possible in order to reach more eligible patients and provide more comprehensive services.
Complete Trust
For nearly 10 years, Walgreens has supported close to 900 Covered Entities with the 340B Complete program, our Contract Pharmacy administration solution. We understand a Covered Entity's need to optimize its 340B drug cost savings. With increasing oversight and demand for audit preparedness, a solid foundation of trust between your organization and your 340B Contract Pharmacy partner is crucial to your success in this ever-changing environment.
Complete Confidence
Walgreens is the 340B Contract Pharmacy Network market leader and the only 340B end-to-end solution that combines convenient local pharmacy care with turnkey, compliance-enabling administration support (implementation, operations, audit, analytics).
Complete Satisfaction
Walgreens and the 340B Complete program enhance the overall experience, satisfaction and quality of care for patients. Likewise, you can experience the satisfaction of Walgreens first-rate support, compliance-enabling solutions and opportunities to create savings.
Walgreens is ideally positioned to be the community-based extension of your healthcare network with more than 8,200 locations, more than 40 percent of which are located in Medically Underserved Areas, serving 6 million customers every day.
With Walgreens 340B Complete, you may realize additional funds for investment in services that:
Expand patient access to care
Provide financial assistance to patients
Increase staff size
Promote outreach programs
Offer additional healthcare services
As the 340B Contract Pharmacy Network market leader, rely on Walgreens and Walgreens 340B Complete to alleviate the burden inherent in running a 340B program, increase patient access and create opportunities for added cost savings.
Further your organization's mission with Walgreens 340B Complete.
Additional 340B Resources: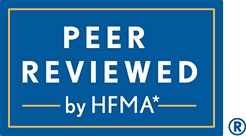 Walgreens 340B Complete is the only 340B program in the country to earn an HFMA Peer Review designation.
* HFMA staff and volunteers determined that this product has med specific criteria developed under the HFMA Peer Review Process. HFMA does not endorse or guarantee the use of this product.