Carpal Tunnel Braces
(1 reviews)
Ship to you

Not sold in stores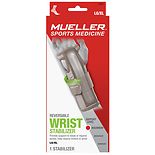 Ship to you

Not sold in stores
Carpal tunnel braces
Help alleviate discomfort in your wrist, hand and fingers with a set of carpal tunnel braces. For the evenings, there are Night braces, which extend from your wrist to your fingers to keep everything stabilized while you sleep. Continue your care into the day with day braces that are smaller and give you a wider range of motion. Carpal tunnel braces in different sizes, colors and styles from WrisTimer, IMAK and AccuLife are here at Walgreens.com.
Different types and features
Whether you're recovering from surgery for carpal tunnel syndrome or are trying to prevent strain and injury, carpal tunnel braces can help ease the pain. If you have swelling in the wrist or hand, try a wrist support brace that features an included gel pack for cold or warm relief. Most carpal tunnel braces are adjustable, so they can fit around swelling and offer comfortable compression.
Other supportive options
You can find many other types of braces and supports within the aids to daily living section of our home medical department. Some types of wrist braces can help relieve arthritis pain and discomfort from strains. For other needs and activities, browse knee braces, knee warmers and ankle supports to help you stay comfortable and active.
Were these results helpful?
Online and store prices may vary