Hand Braces for Arthritis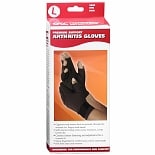 (1 reviews)
Ship to you

Not sold in stores
Hand braces for arthritis
If you struggle with arthritis in your hands, try arthritis gloves. These hand braces for arthritis are designed for daily activity and 24-hour relief. By providing mild compression, arthritis hand braces can enhance circulation and relieve pain. Most hand braces for arthritis feature open fingertips for easy gripping and touching. Choose your size and preferred style of hand braces from Therall, IMAK and OTC Professional Orthopaedic.
Staying active
Hand braces for arthritis may help you keep up your daily activities and hobbies. Designed to relieve symptoms such as swelling, gloves for arthritis can also help warm your hands. Choose a material that allows your skin to breathe and is comfortable for day and night wear. You have a choice of colors and latex free braces are available for those with sensitive skin.
Arthritis relief
Shop Walgreens.com for more products to help soothe and minimize the pain of arthritis. There are topical pain relief creams and gels so you can pinpoint application to where it really hurts. You can also find arthritis pain relievers that include acetaminophen. More arthritis relief comes in the form of patches and wraps and rubs to alleviate pain.
Were these results helpful?
Online and store prices may vary