Milk Of Magnesia
Out of stock for shipping

Not sold in stores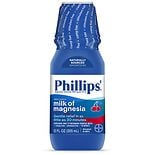 Milk of Magnesia
Milk of magnesia is an effective laxative that provides relief from constipation when used as directed on the package label or as recommended by your physician or other healthcare provider. Order milk of magnesia in different flavors and package sizes for shipment right to you. Walgreens.com carries both the name brand Philips as well as generic varieties.
Saline laxatives
Milk of magnesia is classified as a saline laxative, because it is based on salts of magnesium. It is low in sodium and produces relief from constipation in 30 minutes to six hours. Milk of magnesia is gentler than other overnight laxatives as it does not include ingredients that may cause cramps. Mint or cherry flavored milk of magnesia is easier to take than the unflavored form of this effective laxative, and concentrated milk of magnesia includes more of the active ingredient in a smaller dosage.
Package sizes
You can order either the leading national brand of milk of magnesia, or you can choose Walgreens' own brand of this laxative for the same effectiveness and quality at a lower price. Original or mint milk of magnesia is available in a 26-ounce economy size bottle from Walgreens, and the same size bottle in wild cherry flavor is available from the leading national brand. Options for twelve-ounce bottles of milk of magnesia include either national brand or Walgreens' own original or cherry-flavored products, or Walgreens' mint milk of magnesia. The national brand offers an eight-ounce bottle of concentrated milk of magnesia and a four-ounce travel size bottle of the original flavor.
Were these results helpful?
Online and store prices may vary