Neutrogena Make Up Remover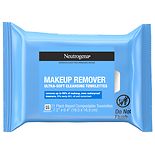 (143 reviews)
Neutrogena make up remover
Cleanse your face and rinse off cosmetics and other dirt with a Neutrogena make up remover. There are different forms of make-up remover and different formulas. You can choose a Neutrogena make up remover for your entire face or a specific eye makeup remover. Keep a liquid make up remover at home and carry convenient cleansing towelettes in your gym bag. Shop Walgreens.com for Neutrogena make up removers that work with your skin type.
Cleanse and refresh
Neutrogena Makeup Remover Cleansing Towelettes come in a handy tub to keep them fresh and easy to access. There are also economical refill packs. Neutrogena make up remover towelettes also come in their Deep Clean formula for an effective oil-free option. If you're looking for an eye makeup remover, you have a choice between a liquid, lotion, or moistened pad. Neutrogena Oil-free Eye Makeup Remover is available in two different sizes for your convenience. Eye makeup remover pads come in extra gentle and ultra soft formulas to condition and protect the delicate skin around your eyes.
Cosmetics from Neutrogena
Stick with your trusted Neutrogena brand for cosmetics. Start with foundation, concealer and blush or bronzers/glows. Foundation is available in liquid and powder form. Find your shade and the formula that works best for you, whether it's Neutrogena's Healthy Skin, Mineral Sheers or SkinClearing line. Finish your look with a Neutrogena mascara and lip color.
Were these results helpful?
Online and store prices may vary