Saline Solution For Contact Lenses
(1 reviews)
Ship to you

Not sold in stores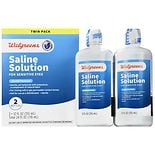 Saline solution for contact lenses
Contact lens saline solution works to ensure that your contacts are free of calcium deposits and loose debris to clean them. In order to get the benefit from this solution, you must rinse your lenses after you have cleaned them and before putting them in your eyes. Walgreens.com carries saline solution for contact lenses form brands like Bausch and Lomb as well as Unisol.
Contact solution options
When choosing the saline contact solution to use for your lenses, you must compare the other ingredients in them. For instance, a saline solution for contact lenses may contain potassium, which is a beneficial ingredient since it is also found in your natural tears. Additionally, some contact solutions are designed especially for people with sensitive eyes. Make sure to look for sensitive solutions on the label if you are sensitive to eye irritation.
Saline solution considerations
After you have purchased the saline lens solution, you must familiarize yourself with the appropriate way to use it. Do not use the saline solution for contact lenses as an alternative, or replacement, for a cleansing solution. Your contact lenses will still need to be cleaned before rinsing them with the saline solution. Additionally, do not store your contacts in this solution; choose a multipurpose solution to handle the cleaning, disinfecting and storing properly.
Were these results helpful?
Online and store prices may vary