Neutrogena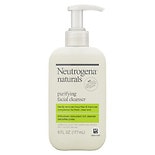 Auto-Reorder & Save
(250 reviews)
Auto-Reorder & Save
(87 reviews)
Ship to you

Not sold in stores
Neutrogena products
Personal care and beauty products from Neutrogena offer quality and affordability for your skin care, hair care and cosmetics needs. Acne treatments, moisturizers for hands and body, and washes are just a few of the Neutrogena product types carried here at Walgreens.com.
Neutrogena means beauty
With more than 100 products for women, men and children, there is hardly a personal care need that Neutrogena doesn't address. When it comes to putting your best face forward -- whether you are young or not as young as you used to be -- we have something for you. Fight acne and the battle against wrinkles with facial cleansing, toning and moisturizing products. Improve your make-up routine with nourishing cosmetics including concealers, foundations, bronzers, powders, eyeliners and mascaras. At the end of the day, pamper your skin with Neutrogena make-up remover products.
Endless Neutrogena variety
Skin care and beauty are only the beginning. Neutrogena offers premium and therapeutic hair care options, sunblocks for the whole family, sunless tanning products, after-shave for men -- and so much more.
Were these results helpful?
Online and store prices may vary