Commode Seats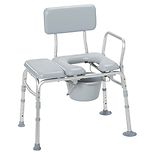 $179.99 Striked out price
$143.99
Ship to you

Not sold in stores
Commode seats
For safety and comfort, browse our variety of commode seats here at Walgreens.com. Whether you are caring for a loved one or patient or are shopping for yourself, commodes can be a convenient alternative to using a toilet. Remember that you have many options as far as size, stability, features and brands go. TFI Medical, Lumex and Drive Medical offer commode seats for a range of needs and uses.
Exploring the options
To minimize the distance between the bed and the commode seat, you can choose a bedside commode. Most of these chairs feature arms that fold or rotate down to allow for easy and safe transfer from the bed to the seat. These, as well as other commode seats, can also come in bariatric or heavy duty varieties. There are even commode chairs with padded armrests and backrests for maximum comfort.
Staying comfortable, safe and clean
Find other options that can make caring for yourself or a loved one simpler. We carry bathroom safety products such as transfer benches for help getting in and out of the shower or tub. You can also add a bath mat for stability, as well as grab bars and hand held shower heads for convenient washing. If showering isn't always an option, you can use no rinse cleansers and no rinse shampoo.
Were these results helpful?
Online and store prices may vary