Nail Strengthener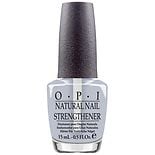 Ship to you

Not sold in stores
Ship to you

Not sold in stores
Ship to you

Not sold in stores
Nail strengthener
Help prevent breaks, cracks and snags on your nails with nail strengtheners. These nail treatments can help your natural nails grow strong, so you won't have to file around breakage. Choose from nail strengtheners from Sally Hansen, Essie, Nutra Nail and Revlon that contain ingredients to nurture your nails.
For strong, durable nails
Looking for a quick fix? Try an instant nail strengthener. If you're in need of a more long-term solution, there are strengthening treatments that work over the span of wear to bond the layers of your nail together in a more durable way. There are also strengtheners for nails that keep moisture in the nail to help them grow more healthy and strong.
Other nail options
Our assortment of nail care treatments includes many products to help you grow healthy-looking nails. Some growth treatments may help your nails to grow faster. Prefer a natural look? Nail whiteners can brighten your tips without using nail polish. There are also cuticle and hand treatments