Finest Natural Supplements
No exact match for finest natural supplements. See partial matches below.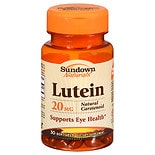 Ship to you

Not sold in stores
(3 reviews)
(2 reviews)
Ship to you

Not sold in stores
Finest Natural supplements
You can make sure you're getting the nutrients your body needs to stay healthy and strong by adding Finest Natural supplements to your routine. Made with vitamins, minerals, antioxidants and healthy oils, these supplements from Finest Natural usually do not contain preservatives or artificial color. Choose the Finest Natural supplements that can help improve your overall well-being.
Types of supplements
Our selection of Finest Natural dietary supplements here at Walgreens.com includes specific capsules for men's and women's health. For general concerns or needs, there are multivitamins as well as Vitamin B,