Natural Supplements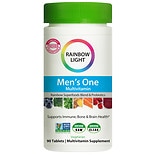 Auto-Reorder & Save
(3 reviews)
Ship to you

Not sold in stores
Natural supplements
If you're looking to make up for nutrients missing in your diet, or need help with a health concern, natural supplements may be the answer. Adding vitamins and minerals or other supplements to your daily routine can be a simple solution to some health problems or ailments. We carry a range of natural supplements that can provide various benefits to help you feel your best. Try a dietary supplement from brands Finest Natural, Sundown Naturals or Windmill.
Smart supplements
If your doctor has recommended a natural supplement for you or someone in your family, make sure you get the dosage and form that will work best. Fiber supplements come in unflavored or flavored powders as well as gummies for kids. We carry everything from cleansers and antioxidants to diabetic supplements that help people with diabetes address their special dietary needs. You'll also find a range of diet and weight management supplements including diet & nutritional bars, meal replacement bars and protein shakes.
Keeping the family healthy
Make sure your medicine cabinet contains the essentials to treat colds, cuts and other ailments that spring up. Keep a supply of cold compresses, heat therapy products, pain relievers, alcohol and swabs, and make sure your thermometer is in good working order. First aid kits at home and for the car should include bandages, antiseptics and burn care treatments. Be ready for colds and flu at any time of the year with vaporizers, tissues, cold medicine and cough drops.
Were these results helpful?
Online and store prices may vary