Search Results for "Olay Lotions"
(6 reviews)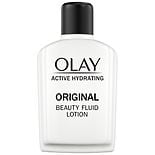 (31 reviews)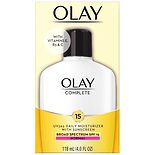 (8 reviews)
Olay lotions
Keep your skin soft and supple with Olay lotions. Olay offers a variety of lotions for the body and face. Whether you just need to moisturize or are fighting signs of aging, find an Olay lotion for your specific skin concerns. Choose from firming creams and serums, rejuvenating creams and lotions and moisturizers to smooth and hydrate your skin.
Select your skin care
If you need a body lotion, choose from several formulas and scents from Olay. Find intense moisturizing formulas or daily lotions with a bit of shimmer. There's even an anti-aging lotion that promises to improve elasticity while it deeply conditions your skin. Looking for a facial lotion? Choose from smoothing or sculpting creams and anti-wrinkle lotions. There are sensitive skin formulas and night creams for extra hydration.
More from Olay
Olay's line of skin care solutions includes body washes and gels, bar soap and rejuvenating treatments. Find eye creams and treatments for the delicate skin around the eyes. Acne cleansers and scrubs are formulated to help control blemishes and you can find non-comedogenic and oil-free formulas.
Were these results helpful? Let us know.
Price may vary by store location and may not match online pricing.