Sally Hansen Nail Polish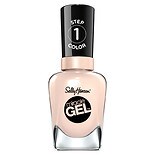 (408 reviews)
$8.99 Striked out price
$4.79
(13 reviews)
Sally Hansen nail polish
Find a variety of shades of Sally Hansen nail polish to wear with all of your outfits. We carry an assortment of nail polish types and colors from this nail care brand here at Walgreens.com. You can go with a sophisticated matte color or choose one with a little extra sparkle. There are Sally Hansen nail polishes that can strengthen, condition and nourish your nails.
Creative colors
Looking to build your nail color collection? Start with the basic shades of red Sally Hansen nail polish that include those with shimmery, dark undertones and others with more of an orange tint. There are also pink nail polish colors that range from coral to those more like lilac. You can also find Sally Hansen nail polish in shades that are ideal for doing your own French manicure.
Caring for your natural nails
In addition to a wide variety of nail colors, Sally Hansen also offers nail treatments with a variety of benefits. You can try a cuticle remover or choose a strengthening treatment to help your nails grow long and strong. There are also different kinds of base and top coats to help your color dry faster or to set your color.
Were these results helpful?
Online and store prices may vary