Blistex Lip Balm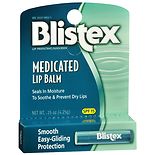 (11 reviews)
Blistex lip balm
The Blistex name is synonymous with quality lip care. Not only does this brand make the classic Blistex lip balm, they make it with a variety of flavors, ingredients and benefits. Choose a lip protectant that contains sunscreen to shield your lips from sun and wind damage, or try a lip balm made to soften and add shine to your lips. At Walgreens.com, you'll find Blistex lip balm that can condition, protect and moisturize.
Deep conditioning
For fast relief you can feel, try Lip Medex balm for chapped lips. The topical analgesic in this medicated lip balm helps alleviate sore lips, while other ingredients work to protect and repair. Medicated lip protectants can seal in moisture to keep your lips healthy as it protects and heals.
The look and feel you desire
Blistex Deep Renewal balm can smooth and diminish the appearance of wrinkles and fine lines for a youthful-looking pucker. And if you use it daily, Deep Renewal can also help lessen and prevent signs of lip aging over time. Silk & Shine lip protectant offers the Blistex protection and conditioning you love with a touch of gloss for a polished finish. If you'd like a tasteful balm that hydrates and protects from sun damage, try Fruit Smoothies flavored lip balms. Available in a convenient three-pack, you can wear creamy blends of melon, berry and tropical flavors.
Were these results helpful?
Online and store prices may vary