Home Tests and Monitoring
Although you can sense symptoms of illness and disease, there are many aspects of your health that you cannot monitor or detect on your own. Fortunately, medical science has developed convenient ways to test for many conditions and to monitor chronic health care problems at home. The Walgreens Home Tests and Monitoring Products has a wide selection of home tests and monitoring supplies, including cholesterol tests, pregnancy tests, pedometers, and many more. READ MORE ABOUT HOME TESTS & MONITORING ╗
Blood Pressure Monitors
$57.99 Striked out price
$49.99
Fertility Tests & Aids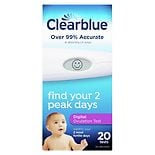 $27.99 Striked out price
$23.44
Different Types of Home Tests & Monitoring
Having high blood pressure or hypertension puts you at an increased risk for both stroke and heart disease. It can often be difficult to tell how severe hypertension is or if medication is controlling it well just from a single doctor's visit. Your blood pressure levels can change throughout the day and can be elevated in your physician's office due to stress and worry. Using a blood pressure monitor at home to take daily readings can give your doctor a clearer picture of your health. Most blood pressure monitors are now fully automated, so you can simply slip them onto your arm and press a button to take a reading
Family planning is an important part of sexual health. If you wish to conceive, fertility monitors can help you determine when the best time to try is. These products monitor levels of hormones in your body and can tell when you are ovulating with rather high reliability. Think you may be pregnant already? Prompt prenatal care is important for both your health and your baby's. You can use a pregnancy test to determine with relatively high accuracy whether or not you are expecting to find out if you should contact an obstetrician. Typically, pregnancy tests cannot be used reliably until the first day of your missed period, so be sure to read the timing information carefully when selecting a test.
If you're diabetic, your body may not be able to keep your blood sugar levels within normal ranges on its own. Glucometers or blood glucose monitors can help you see how well you're managing your sugar levels. If you use insulin, the glucometer will help determine how large of a dose you should use. Your doctor will likely recommend a specific glucometer for you to use to track your blood sugar levels at home.
Walgreens has a number of other monitors and testing kits available to meet your needs. These include scales for body weight, pedometers to count the number of steps you take each day, thermometers for body temperature, alcohol and drug testing kits, paternity test kits and products for monitoring your cardiovascular health like cholesterol tests and stethoscopes.
Even the best of our Home Tests and Monitoring Products will not produce accurate results or readings if used incorrectly. If your doctor or another health practitioner has provided you with instructions on how to use a device or kit, be sure to use it as directed. Otherwise, read and follow the instructions that accompany the kit or monitor you purchase. In the event you discover that you are pregnant, have a disease, or are experiencing high blood pressure or blood sugar readings, be sure to contact your doctor as soon as possible. BACK TO TOP ╗
* Restrictions apply. Buy 1 get 1 offers valid on select items of equal or lesser price. Offers valid through September 27, 2014.