When you watch a makeup artist at work, you are likely to notice that they use a variety of brushes, tools and accessories, all of which are used to achieve different makeup looks. The shading brush used to blend different shades of eyeshadow is likely to differ dramatically from the large, powder brush used to blend face powder or blush. Walgreens offers a vast assortment of Makeup Tools and Accessories that can help you achieve the same flawless results as the professionals. READ MORE ABOUT MAKEUP TOOLS AND ACCESSORIES ›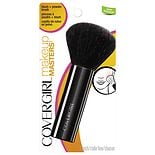 Online and store prices may vary
Learn More about Makeup Tools and Accessories
To achieve the best results with your makeup, beauty experts recommend that you invest in the right tools for the job. You are unlikely to achieve a flawless finish if you smear on cosmetics with your fingers or inappropriate applicators. Each makeup brush has been designed with a purpose in mind. Small, shaped brushes are ideal for applying eye shadow, eye liner, concealer and lip color. Larger brushes are more appropriate for applying foundation, blush or face powder. You will find brushes for every cosmetic to suit every budget.
For a relatively small area of the body, the eyes require considerable amounts of care and attention. You may need to tweeze or trim your eyebrows to keep them under control. Eyelashes can be curled and colored to provide the perfect frame for your eyes. You will find a range of tools and accessories that can enhance your eye area and allow you to achieve trendy looks like the cat and smoky eye.
Nails grow by approximately 3 millimeters each month. To keep your nails looking neat and tidy, it is vital to cut, clip or file them on a regular basis. Experts recommend that you file your fingernails from the outside in. If you use a sawing motion, your nails are more likely to split. The surface of the nail can be filed to remove ridges and buffed to give it a natural shine. Toe nails tend to be thicker and tougher than fingernails. You may find it advantageous to use a more robust set of clippers on your toenails.
When you are applying cosmetics, it helps if you can see what you are doing. It is well worth investing in a high quality makeup mirror that allows you to see your face while you apply your makeup. Many mirrors designed for makeup application have a regular side and a magnified side. The magnified side allows you to see the detail of your face in close up as you undertake your beauty routine. Additional lighting built into the frame of the mirror can also be helpful. Some makeup mirrors fold down, enabling you to take them with you when you travel.
When you have invested in a collection of makeup tools and accessories, you can ensure that they remain in first-class condition by storing them in an appropriate manner. It is likely that you will want to use your makeup when you are traveling or on vacation, so consider storing your Makeup Tools and Accessorie Products in a cosmetic bag or box. This will ensure that you have everything on hand when you apply your cosmetics. BACK TO TOP ›