Whether you're looking for a gift for your wife, girlfriend, mother, daughter or another special woman in your life, Walgreens Gift Sets for Women has plenty of ways to show your thoughtfulness. The right gift set is sure to reflect how much she means to you while also giving her items she can use long after the special occasion has come and gone. From shower and bath kits to spa essentials, Walgreens has a gift for every budget and every woman. READ MORE ABOUT GIFT SETS FOR WOMEN ›
(1 reviews)
Ship to you

Not sold in stores
(2 reviews)
Ship to you

Not sold in stores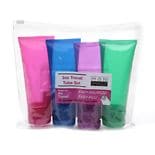 Ship to you

Not sold in stores
Online and store prices may vary
Beauty Sets as Gifts
Beauty sets make wonderful gifts for women for a variety of reasons. The items in a gift set are selected by the manufacturer for inclusion in the gift because they go together perfectly, giving her multiple items to solve a personal care problem, pamper her skin, or help make her daily hair care routine simpler. When you give her a gift set, you're giving her more than one gift, and sets are placed in attractive packaging to make them extra special. Often, the products in gift sets are discounted, allowing you to purchase more than one item for her for much less than you would pay to buy the items individually. Plus, gift sets are not things that women often buy for themselves, making them extra special to receive as presents.
There are many different types of personal care gift sets on the market. Fragrance sets are very popular choices and typically contain a trial-size or full-size bottle of perfume with skin care gifts that have the same scent as the perfume. Travel gift sets feature small versions of products meant for simple packing. Shower gift sets provide essential bathroom accessories or products to help her cleanse and care for her skin when she bathes. Regimen gift sets provide her with all of the products she needs to perform a specific beauty task like care for her hair or skin or do a complete manicure or pedicure at home.
The key to wowing her with a surprise gift set is to select the right type for her needs. As you shop, think about her personality, her tastes and her lifestyle. If she's a busy woman with a stressful job, a gift set full of shower and bath accessories that will allow her to relax in the tub or enjoy a massage could be the perfect choice. Does she always have her nails done when you see her? A gift set that includes manicure or pedicure essentials is sure to be a hit. Is there a certain beauty product that you already know she uses? Finding a gift set that contains it as well as items that coordinate with its scent or complement its actions will help her discover new beauty benefits.
Carefully compare the sets available while thinking about her, and be sure to keep your budget in mind as you shop. You can even use the slider on the left-hand side of the page to refine your search and view only those gift sets within your price range for easy shopping. Don't forget to finish her gift with a gift bag or gift wrap and a greeting card to honor the occasion! BACK TO TOP ›