Future Pharmacists: Femi Felix-Ukwu
Walgreens Diversity Scholarship Helps Achieve Goals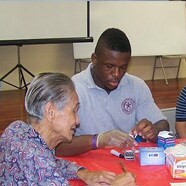 Femi Felix-Ukwu
PharmD Candidate 2012 at Texas Southern University College of Pharmacy and Health Sciences
What does diversity mean to you?
A person may not look exactly like me, eat the same foods as me, or even speak the same language as me, but compassion and empathy cross cultural lines. Diversity is understanding that while there may be differences, we are more similar than different.
How do you think you will impact the future of pharmacy?
I think I will have an impact by bringing the true sense of caring into pharmacy. Growing up, my mom was an independent pharmacy owner. This allowed me to see firsthand what being a compassionate pharmacist is about. I remember seeing her counsel a young boy diagnosed with Type I diabetes who was taking his first insulin injection. When I was in college, I continued to admire how she made both the parent and the child feel at ease. These examples help solidify why I wanted to become a pharmacist.
What role does diversity play in community pharmacy?
America is a melting pot of cultures. As a pharmacist, you need to be prepared to provide health care services to the many ethnic groups and diverse populations you will come across working in a community pharmacy setting. Being a pharmacist, one must treat each patient with respect and compassion; and that is what I plan to do.