Walgreens Employees Lead by Example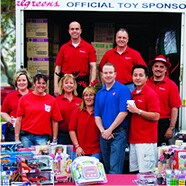 To help keep the Walgreens retail network connected to the neighborhoods it serves, the company created a Community Leader position in 2009. These 1,300 Community Leaders now identify and create local events each year.
From toy and winter coat drives to fundraising walks and informing neighbors about flu protection, Walgreens is building upon its long-standing tradition of community pharmacy.
"Life is local," says President of Business Operations, Mark Wagner. "We encourage community leaders to be an active part of their neighborhood by joining the PTA or getting to know the city council."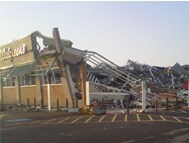 Outpouring of Support
When a deadly tornado ripped through Joplin, Mo., in May, it hit very close to home for Walgreens. Of its three locations in Joplin, one store was destroyed while the other sustained broken windows and roof damage. Thankfully, all team members were accounted for.
A Red Cross triage unit was set up outside one of the stores and became one of the hub triage centers to help affected residents. Walgreens donated items such as antiseptics, glucose machines, test strips, blood pressure machines, crutches, batteries and flashlights to the unit.
The Walgreens Benefit Fund supplied emergency assistance to help team members with immediate needs like food, shelter and gas.
"It's an overwhelming, emotional experience," says Walgreens store manager Cindy Reed. "Many customers are walking into our store in shock because it's so devastating, and two of my team members lost everything in the storm. But the outpouring of love and support from Walgreens people who have reached out to us from all over the country has been amazing -- unlike anything I've ever seen."