Services For Business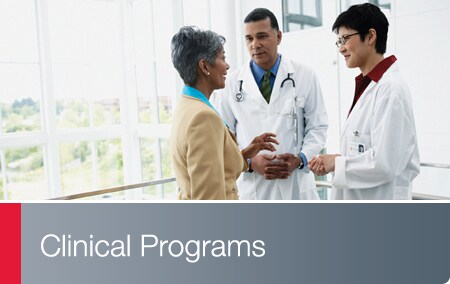 Unique programs that manage care and cost.
Walgreens therapy management programs create a unique offering for payers to ensure competitive drug acquisition cost, appropriate utilization, and proactive clinical management. Our programs were developed with input from physicians and clinicians with extensive expertise in their respective industries. Our programs focus on patients who have a broad range of acute and chronic, complex conditions. In addition, we assist in cost reductions through unique programs, such as our Medical Benefit Management program.
A snapshot of our available clinical programs:
Oral Chemotherapy Cycle Therapy Management


Our program services help patients manage their medication therapy and control waste through monitored dispensing (an optional program feature that offers split-fill dispensing) and increased therapy monitoring, which includes clinical interventions executed at designated intervals by experienced oncology nurses. Overall we reduced medication waste and reduced hospital admissions by 2.9%-resulting in a combined savings of nearly $1,400 per patient per year.

1

Medical Injectable Drug

TM

(MID).
We strategically manage specialty drug spend for health plans. In one example, we saved a health plan client approximately $28.5 million over a two-year period by facilitating the dispensing of almost 50 injectable pharmaceutical products typically administered in physician offices to the lower-cost option of Walgreens Specialty Pharmacy.

2

Bleeding Disorder Therapy Management Program


Walgreens is one of the nation's leading providers of home infusion services for hemophilia and von Willebrand disease. Our program addresses the physical social and emotional well-being of patients and their caregivers through high-touch home infusion and comprehensive clinical, nursing and pharmacy expertise. The program is highly cost-effective, too. For one client, Walgreens was able to decrease costs by over $613,000 for 36 patients during a six-month period.

Walgreens Immunoglobulin (IG) Therapy Management Program


We provide an extensive list of therapy services including adherence monitoring, side-effect counseling and management, patient status updates, drug interaction prevention, patient education and clinical data collection. Each year we manage over 55,000 IG infusions, significantly reducing the costly incidence of adverse reactions. In fact, a recent study indicated that almost 79% of patients had no adverse events and there were no severe events at all. Among the remaining patients, nearly all events were mild and controllable.

3-7

Walgreens Nutrition Support Program


Leveraging more than 30 years of nutritional support experience, we treat patients of all ages, conditions and needs. We are committed to clinical excellence, compassion for both patients and their caregivers, and ongoing communication with healthcare providers. Our multidisciplinary team is effective in optimizing clinical and financial outcomes for patients receiving home parenteral and enteral nutrition.
Our therapy programs. Your healthcare solutions.
Let us help your members achieve healthy results. Through our services of adherence monitoring, side-effect counseling and management, patient status updates, drug interaction prevention and clinical data collection, Walgreens is a leader in effectively managing patient care and controlling costs.

For more information about our Clinical Programs, contact a Walgreens Solutions Expert.
1
Khandelwal N, Duncan I, Ahmed T et al. Impact of Clinical Oral Chemotherapy Program on Wastage and Hospitalizations. J Oncol Pract. 2011;(3 Suppl):e25s-9s.

2 J Manag Care Pharm. 2011;17(1):51-59. Copyright ©2011, Academy of Managed Care Pharmacy. All rights reserved. Authors: Christopher G. Baldini, PharmD, Clinical Pharmacy Specialist and Eric J. Culley, PharmD, MBA, Manager, Clinical Pharmacy Services, Highmark Blue Cross Blue Shield, Pittsburgh, Pennsylvania. Study available athttp://www.amcp.org/data/jmcp/51-59.pdf.

3 Souayah N, Hasan A, Hafiz MR, et al. The safety profile of home infusion of intravenous immunoglobulin in patients with Neuroimmunologic Disorders. J Clin Neuromusc Dis. 2011;12:S1-S10.

4 Rigas M, Tandan R, Sterling RJ. Safety of liquid intravenous immunoglobulin for neuroimmunologic disorders in the home setting: a retrospective analysis of 1085 infusions. J Clin Neuromuscul Dis. 2008;10(2):52-55.

5 Stangel M, Muller M, Marx P. Adverse events during treatment with high-dose intravenous immunoglobulins for neurological disorders. Eur Neurol. 1998;40(3):173-174.

6 Brannagan TH III, Nagle KJ, Lange DJ, Rowland LP. Complications of intravenous immune globulin treatment in neurologic disease. Neurology. 1996;47(3):674-677.

7 Bertorini TE, Nance AM, Horner LH, Greene W, Gelfand MS, Jaster JH. Complications of intravenous gammaglobulin in neuromuscular and other diseases. Muscle Nerve. 1996;19(3):388-391.

Contact
Ready to learn more?
Let us contact you.

Fill out our contact form and
a knowledgeable sales representative will be
in contact soon.
Service Locator
Find Walgreens pharmacy, health and wellness services near you.

Search for a service

© Copyright 2017 Walgreens Co. All rights reserved.