Services For Business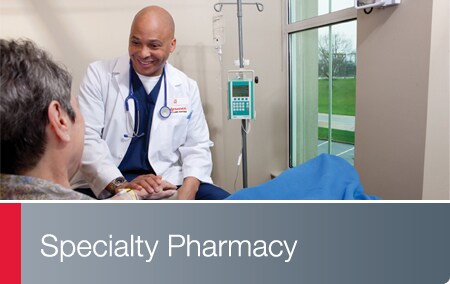 Review our list of specialty services.
Walgreens is the strategic partner of choice for specialty pharmacy services.
Delivery to the home, physician's office or other locations, such as a Walgreens Specialty Care Center, to provide a more comfortable choice for your members
Multidisciplinary teams to help manage and care for patients
24/7 clinical support for patients and providers
Therapy management programs with demonstrated outcomes
Local nursing support for administering medications and training for injections
Access to a breadth of limited-distribution drugs
Payer-based reimbursement teams with expertise across medical and pharmacy benefits
Care for adult and pediatric patients
Care within reach.
Walgreens specialty services are conveniently available to your members in person through community retail pharmacies and local specialty pharmacies as well as by telephone via our centralized fulfillment pharmacies. So your members enjoy both choice and easy access to specialty medications, including limited-distribution drugs.
Support that matters.
As a top provider of specialty pharmacy services, Walgreens offers unparalleled access to more than 1,000 specialty drugs and more than 120 limited distribution drugs, including several exclusive and local-level drugs. As medication administration becomes increasingly complex, we're here to support you. Our coordinated patient management model gives you the flexibility to facilitate care in multiple ACHC- and URAC-accredited treatment locations - expertly delivered by our trained clinicians using established evidence-based guidelines.
Contact
Ready to learn more?
Let us contact you.

Fill out our contact form and
a knowledgeable sales representative will be
in contact soon.
Service Locator
Find Walgreens pharmacy, health and wellness services near you.

Search for a service

© Copyright 2017 Walgreens Co. All rights reserved.