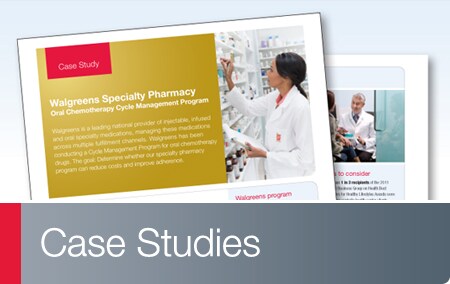 TOPIC: Incentive Programs
Walgreens Balance Rewards for healthy choices® utilizes incentives, goal setting and regular self-monitoring to inspire and motivate participants. New program participants taking prescribed diabetes medications indicated better adherence through tracking blood glucose levels (7.9 percentage points higher adherence) and logging steps for walking and running (5.4 percentage points higher adherence). New participants taking prescribed antihypertension medications also indicated better adherence through tracking blood pressure levels (2.4 percentage points higher adherence) and logging steps for walking and running (2.6 percentage points higher adherence. Read more about these and other results in the full white paper »
TOPIC: Specialty Solutions
The Walgreens Specialty Pharmacy Oral Chemotherapy Cycle Management Program (CMP) provides optimized clinical management and support to patients who receive certain oral chemotherapy drugs. Approximately 34% of patients in the CMP test group could have avoided medication wastage if split-fill plans had been available, potentially realizing direct savings of approximately $934.20 per patient. Read more about indirect and direct savings in the complete study.
TOPICS: Specialty Pharmacy, Infusion
The Medical Injectable Drug program was developed as a method to manage specialty pharmaceuticals that are commonly administered in physician offices and reimbursed under the medical benefit. The program delivered cost savings of approximately $28.5 million over 2 years. Read about how changing reimbursement channels delivered this savings.
TOPICS: Specialty Pharmacy, Infusion
An expanded Max90TM program for Navitus was instituted at the beginning of 2010 and measured over a period of 18 months. The program helped Navitus experience a 90-day penetration rate increase of more than 18 percentage points. This increase played a critical role in generating the $44 million in savings. See what other financial gains were achieved with Max90TM for Navitus.
TOPIC: Healthcare Clinic
As part of Walgreens commitment to measure and improve the quality of care in the retail setting and to work holistically in care delivery, the our team initiated a comprehensive ongoing analysis of comparative quality using HEDIS (Healthcare Effectiveness Data and Information Set) scores from the National Committee for Quality Assurance. Gallup CE11 results put Healthcare Clinic* in the top 10% of all companies Gallup has measured since 2003. Learn more about how Healthcare Clinic services help deliver quality care.
TOPICS: Pharmacy Solutions, Diabetes Management
The objective of the Dimensions study was to assess the impact of a pharmacist delivered diabetes patient education program at the workplace pharmacy. Study participants achieved an average reduction in HbA1c values of 0.67%. In addition, patients who began the study as uncontrolled diabetics saw HbA1c levels drop by 1.51%. View more BMW Dimensions Program results.


* Formerly known as Take Care Clinic at time study was conducted.

Patient care services provided by Take Care Health Services, an independently owned corporation whose licensed healthcare professionals are not employed by or agents of Walgreen Co., or its subsidiaries, including Take Care Health Systems, LLC.
Contact
Ready to learn more?
Let us contact you.

Fill out our contact form and
a knowledgeable sales representative will be
in contact soon.
Service Locator
Find Walgreens pharmacy, health and wellness services near you.

Search for a service