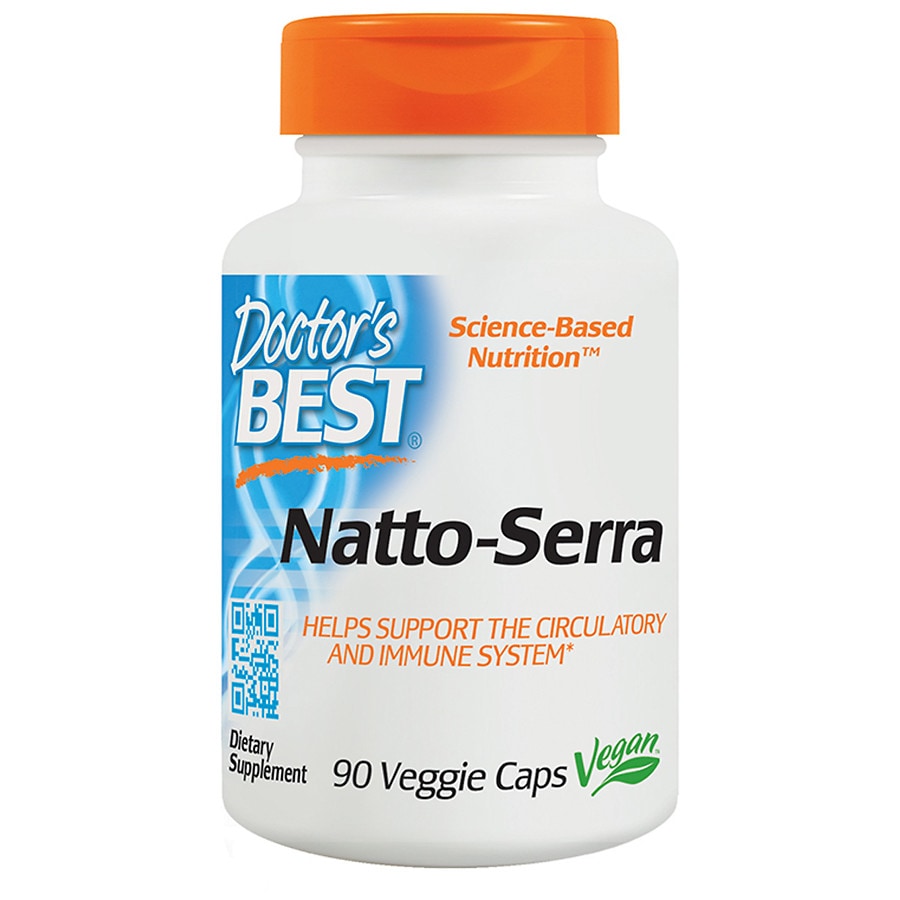 Doctor's Best Best Natto-Serra Circulatory & Immune Support
90.0 ea
Quick view
Dual acting enzyme complex
Supports circulatory system
Supports immune system
Dietary Supplement
Science Based Nutrition™
Dual Acting Enzyme Complex
Support for the Circulatory System*
Support for the Immune System*
Non-GMO & Gluten Free
Suitable for Vegetarians
Best Natto-Serra is a combination of 2 natural enzymes that have been used as dietary supplements for decades. Serrapeptase (serratiopeptidase) is a protein-digesting enzyme isolated from the friendly bacterium Serratia E-15 discovered in the Japanese silkworm. Nattokinase also digests protein and is derived from "natto," a fermented soy food popular in Japan for centuries. This nattokinase is free of vitamin K. The serrapeptidase is formulated with Serrateric™, a superior alternative to enteric coating that helps protect the enzyme until it reaches the intestine to support optimal absorption.
Serrateric™ is a trademark of Deerland Enzymes, Inc.
Contains Nothing Other Than Listed Ingredients
800-777-2474
*These statements have not been evaluated by the Food and Drug Administration. This product is not intended to diagnose, treat, cure or prevent any disease.
Suggested Adult Use: Take 1 to 3 capsules daily, away from food.
©Doctor's Best, Inc
Contains Soy
Do not use this product if you are pregnant or nursing, are allergic to soy, or if you have a blood coagulation disorder. If you are taking an anticoagulant (blood-thinning medciation) or vitamin K, consult a physician before taking this product.
Other Ingredients: Serrateric, Modified Cellulose
Single
Serving Size
1 Capsule
Serving Per Container
90 Servings
Amount per Serving
%DV
Serrapeptase Enzyme
40000SPU
Nattokinase
2000FU