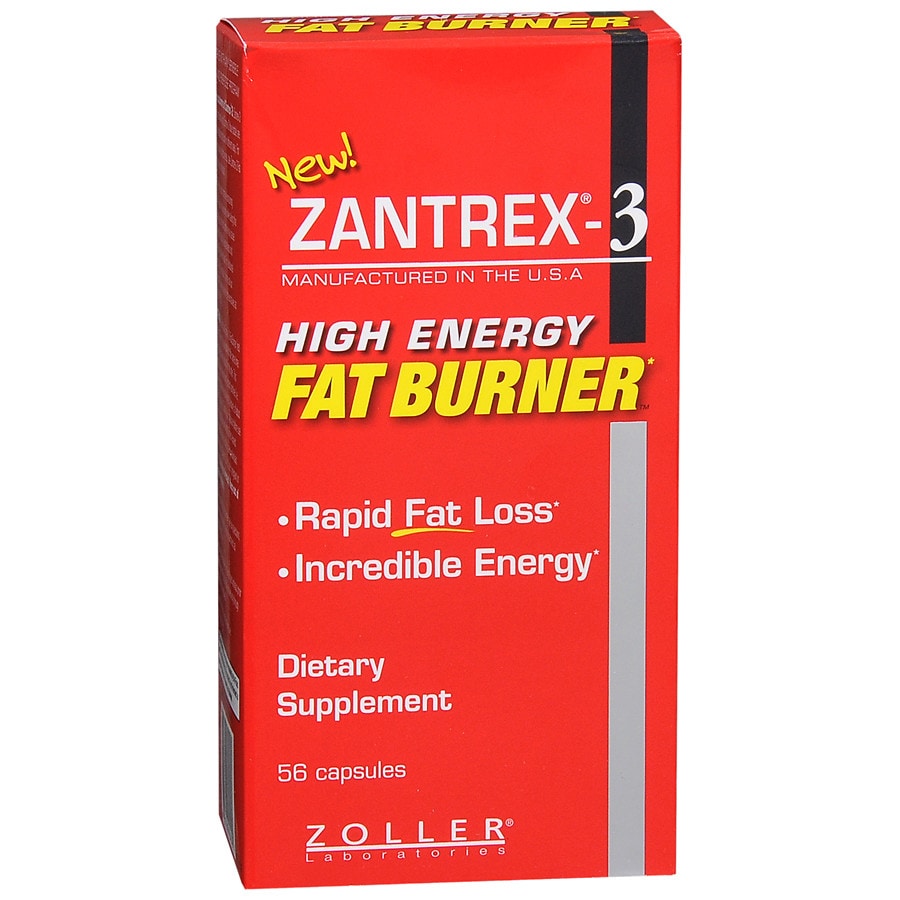 Zantrex Weight Loss Dietary Supplement Capsules
56.0 capsules
3.4
(5)
$35.99
Savings:$16.00 (44%)
Quick view
Rapid weight loss
Extreme energy
Works with any sensible diet & exercise
Dietary Supplement
High Energy* | Fat Burner*™
Rapid Fat Loss*
Improved Energy*
Now with Oxydrene®
Works with any sensible diet and exercise program.
Note for customers of original Zantrex®-3:
Zantrex-3 Fat Burner™ (red bottle) and original Zantrex-3 (blue bottle) are different formulations that work in different ways. For maximum fat burning effectiveness, take Zantrex-3 Fat Burner every day as directed.
This product is manufactured to be within all acceptable industry variances.
*These statements have not been evaluated by the Food and Drug Administration. This product is not intended to diagnose, treat, cure, or prevent and disease.
Additional Ingredient and Supplement Facts:
Active Fat Burner Compound: Citrus (fruit) Complex and Guarana (fruit) Extract.
Active Oxydrene® Compound: Rhodiola rosea (root) extxract.
Active Energy Compound: Trimethylxanthine, Guarana (fruit) Extract
As a pre-workout supplement, take two capsules 1 hour before exercise. To maximize fat loss, take two capsules in the morning and two capsules with your main meal, for a total of 4 capsules per day. Always take with a full glass of water. Do not exceed 4 capsules per day.
Use in conjunction with any sensible diet and exercise program. Individual results will vary.
Store at controlled room temperature: 15°-30°C/59°-86°F
©2010 Zoller Laboratories, LLC
Limit the use of caffeine-containing medications, foods or beverages while taking this product because too much caffeine may cause nervousness, irritability, sleeplessness and occasionally, rapid heart beat. For additional information on this product, please call our experienced customer service representative at: 1-800-898-5153.
Do not take Zantrex-3 Fat Burner (red bottle) and original Zantrex-3 (blue bottle) at the same time. Do not substitute one product for the other. This product contains a significantly potent xanthine (i.e., caffeine and caffeine-like stimulants) mixture, of about 200 mg per serving. Consult your physician before use if you are sensitive to stimulants. Do not exceed suggested daily serving. Not for use by individuals under the age of 18 years. Do not use if pregnant or nursing.
Use only as directed. Keep out of reach of children.
Starch, Rice Flour, Gelatin, Magnesium Stearate, Silicon Dioxide, Titanium Dioxide, FD&C Red 40 (CI 16035), FD&C Blue 1 (CI 42090)
Single
Serving Size
2 Capsules
Serving Per Container
28
Amount per Serving
%DV
Water
1091mg
Citrus Complex
Rhodiola (Rhodiola Rosea) Root Extract
Guarana Extract
Trimethylxanthine
Kola Nut Extract
Eleutherococcus Senticosus (Siberian Ginseng) Root Extract
Schisandra Chinensis Extract
Green Tea Extract (Leaf)
Kelp Powder
Fennel (Foeniculum Vulgare) Seed
Alpha Linolenic Acid (ALA)
Customers who bought this also bought
...