Cotton Gloves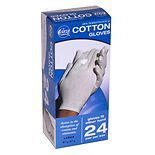 (9 reviews)
Ship to you

Not sold in stores
Auto-Reorder & Save
(4 reviews)
Ship to you

Not sold in stores
Cotton gloves
Worn over a lotion or hand repair cream, cotton gloves offer protection and comforting care for the sensitive skin on your hands. You can leave them on overnight or throughout the day for lasting coverage and deep healing of irritated or dry skin. Walgreens.com carries a wide selection of cotton glove sizes for a comforting fit.
Protection for your hands and garments
Cotton gloves don't just form a protective barrier between the environment and sensitive skin, they protect your garments and belongings from whatever hand lotion, ointment, or hand cream you may have on your skin. This allows the lotion to stay where it belongs: on your hands. The hypoallergenic, sanitary gloves are a great way to conceal skin disorders on the hands, too. The comfort of 100% cotton gloves is hard to match for superior protection and healing.
Were these results helpful?
Online and store prices may vary