Balance™ Financial
Prepaid MasterCard®
Green Dot
Prepaid Debit Cards®
American Express Serve® Card
What are reloadable prepaid cards?
Reloadable prepaid cards work like traditional debit cards. Customers can load funds and use to shop, transfer money, pay bills, withdraw cash from an ATM and receive direct deposits of payroll and government benefits. They can be used anywhere Visa, MasterCard or American Express cards are accepted.
How to set up your reloadable prepaid card
1. Select your card
Browse through the various reloadable prepaid cards available at Walgreens and decide which card is right for you.
2. Purchase and register your card
Visit any of our 8,000+ locations to purchase and load your card. Then follow the instructions to activate your new card. Once activated, you will typically receive a personalized card in the mail in approximately 7-10 business days.
3. Reload your card
Add funds to your card with direct deposit, or with cash in store at any of our convenient locations.*
4. Use your card
Use your reloadable prepaid card to shop, get cash at ATMs or pay bills online or in store anywhere Visa, MasterCard or American Express debit cards are accepted.
Find these cards at your local Walgreens.
---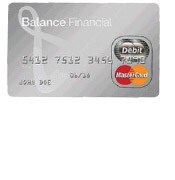 Balance™ Financial Prepaid MasterCard®
From Walgreens
With Balance Financial, you can expect:


No credit check2 or minimum balance.
Ability to pay bills online.
No-fee ATM withdrawals at Walgreens or Duane Reade stores.3
No fee to safely load money from your card to another Balance Financial cardholder.
No-fee card loads with direct deposit.
Cash your payroll, tax refund and government checks directly to your Balance Financial card at over 8,000 Walgreens or Duane Reade stores.
Easy money management in store, online or with your mobile device.
The Balance Financial Card is your one-stop prepaid card solution.
Buy today and start enjoying these additional benefits:
Safety: It's not safe to carry large sums of cash. Load it on the Balance Financial Card and protect your money if your card is lost or stolen.4
Convenience: Easy reloading in over 8,000 Walgreens or Duane Reade stores. Just scan and go—no reload packs needed.
Value: No-fee ATM withdrawals at most Walgreens or Duane Reade stores.3
Rewards: Link your Balance Financial Card to your Balance® Rewards account and earn points on your purchases:

Earn 10 points for every $1 spent at Walgreens or Duane Reade stores.5
Earn 100 points every time you reload your Card in store.
Earn 1,000 points when your first direct deposit is made.
Then, get 250 points for each month a direct deposit is received.
The Register your card or get more information about the Balance Financial Prepaid MasterCard.
1 The Bancorp Bank is not affiliated in any way with Walgreens Balance Rewards and does not endorse or sponsor this product.
2 This is not a credit card.
3 Not offered at #1863 and 1864.
4 Conditions and exceptions apply - see Cardholder Agreement.
5 Due to state and federal laws, points cannot be earned or redeemed on some items, and points will not be earned in a transaction where Redemption Dollars are used. For program terms and conditions, visit Walgreens.com/Balance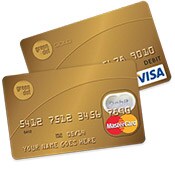 Green Dot® Prepaid Debit Cards
Benefits and features to help you manage your finances:


Shop online, pay bills and make everyday purchases.
No overdraft fees.
No penalty fees or minimum balance.
Free direct deposit. Have your pay or government benefits automatically deposited to your card.
Reloading is now faster and easier with Reload @ the Register.
Add cash at the register to Green Dot cards originally purchased at Walgreens. Reload fee applies.
Free nationwide network of 24,000 MoneyPass® ATMs.1
1 Withdrawals outside the MoneyPass ATM Network will be charged $2.50 plus any ATM owner fees. ATM and cash access only available with personalized cards.
This card is provided by Green Dot Corporation. The Visa Card is issued by Green Dot Bank pursuant to a license from Visa U.S.A. Inc. Green Dot Corporation is a member service provider for Green Dot Bank, Member FDIC. Visa is a registered trademark of Visa International Service Association. Green Dot is a registered trademark of Green Dot Corporation.
Green Dot Bank operates under the following registered trade names: GoBank, Green Dot Bank and Bonneville Bank. All of these registered trade names are used by, and refer to, a single FDIC-insured bank, Green Dot Bank. Deposits under any of these trade names are deposits with Green Dot Bank and are aggregated for deposit insurance coverage.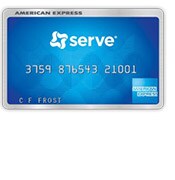 American Express Serve® Card
Features and services that help save you time and money:


Free direct deposit. Get fast, easy access to your paycheck or government disbursements with direct deposit.
Free withdrawals at over 24,000 ATMs.2
Free online bill pay.
Mobile check capture. Add checks into your American Express Serve Account using the American Express Serve Mobile App.1
Safely send and receive money between family and friends with
Serve Accounts.
Backed by American Express 24/7 customer service.
All for just $1/month.
1 Data rates may apply. 2 American Express Serve will not charge you an ATM fee if you use a MoneyPass® ATM. For non MoneyPass ATM withdrawals, American Express serve charges a $2 ATM fee. ATM owner fees may also apply. Transaction limits apply. Subject to Account privileges/permissions. See the American Express Serve Consumer User Agreement at www.serve.com/legal.html for details.
© 2014 American Express Travel Related Services. American Express Serve Account terms, conditions and fees apply. American Express Serve issued by American Express Travel Related Services Company, Inc. Please see Consumer User Agreement for complete details. Serve Virtual Enterprises, Inc. is an authorized delegate of TRS.