Electric Vehicle Charging Stations
Charged Up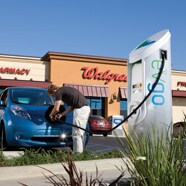 Walgreens offers electric vehicle (EV) charging stations at approximately 400 locations across the country making it of the nation's largest retail host. The company's neighborhood stores will provide convenient locations for EV drivers to recharge near home or work.
"Consumer interest and enthusiasm has been incredible and we're excited to provide locations to charge up in neighborhoods and along major commuter routes across the country," said Walgreens President of Business Operations, Mark Wagner.
Major markets that host these sites include Boston, Chicago, Denver, Orlando, Los Angeles, New York City, Portland, San Francisco and Washington, D.C.
The charging stations will feature either a high-speed direct current (DC) charger that can add 30 miles of range in as little as 10 minutes of charging time, or a Level 2 charger that can add up to 25 miles of range per hour of charge.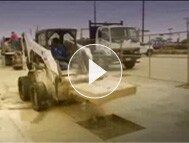 Behind the Scenes in Dallas
Take a time-lapse video tour with NRG Energy of the construction of the first eVgo Freedom charging station at the Walgreens at Belt Line Road and Montfort in Dallas.
> Watch Video
> Read the transcript*