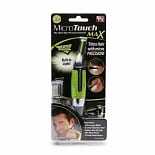 (7 reviews)
(4 reviews)
Hair trimmer kits
Hair trimmer kits make it easy and convenient to cut hair at home. Hair trimmer kits come with a variety of accessories like a barber comb, scissors, blending comb, cleaning brush, blade lubricating oil and a sturdy storage case to protect your clippers. From buzz cuts to trimming, these kits can create stylish hair designs without the hassle or cost of going to the barber or salon. There are several types and price ranges available to choose from. Walgreens.com also carries multiple brands of hair trimmer kits like Andis and Wahl.
Trimmer varieties
There are multiple types of trimmers for everything from hair cuts to pet grooming. Dual voltage electric hair clippers are the perfect choice for traveling abroad. They eliminate the need for a voltage converter. This type of hair clipper kit provides maximum power that makes it easy to cut either wet or dry hair. Most hair trimmer kits feature adjustable blade trimmers that are also lightweight for ease of travel. You can also avoid costly trips to the groomer with pet trimmer kits. An electric hair clipper of this kind is suitable for most dog breeds. These hair trimmers are extremely quiet and generally won't startle your pet.
Hair trimming tips
Many hair trimmer kits come with an instructional DVD, which is especially helpful if you have never used electric hair clippers. Setting aside time to watch this DVD will help to ensure that you don't make any crucial mistakes and get the most out of your choice of hair trimmer kits. The more experience you have using your hair clippers and trimmer kit, the easier it will become.
Were these results helpful?
Online and store prices may vary