Triaminic Cough Syrups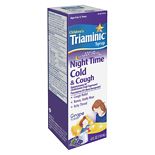 Triaminic cough syrups
Make your little ones feel better with the help of Triaminic cough syrups. These childrens cough, cold and flu treatments come in flavors that include orange, bubble gum, grape and berry punch. Many Triaminic remedies offer multi-symptom relief, so you can treat a runny nose, cough and headache with one formula. Choose from various Triaminic cough syrups available here at Walgreens.com to help comfort your child's cough.
Types and features
For convenience, there are value packs that contain both children's day time and night time cough syrup. Using both can help your child get through the day and get the rest he or she needs at night. There's also a long-acting syrup from Triaminic that lasts as long as eight hours. Many Triaminic cough syrups are alcohol-free and safe for children over four years of age.
Treatment and prevention
Find what you need for the rest of your family's cough relief. There are sore throat spray that both children and adults can use, as well as lozenges. Browse cold medicines for adults that can be used during the day or at night. You can also help prevent a cold from spreading in your family by taking immune support supplements.
Were these results helpful?
Online and store prices may vary