Save on the #1 Eye Doctor Trusted Brand of Contact Lenses.1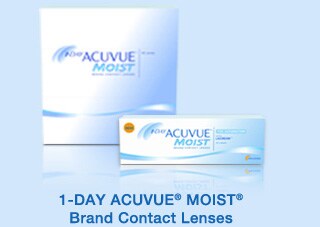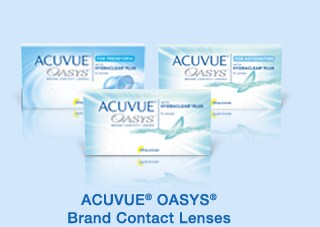 Learn why your eyes will
love them.
UV Protection
ACUVUE® Brand Contact Lenses help protect the covered portions of your eyes by blocking at least 82% of UVA radiation and 97% of UVB radiation-even higher in some lenses.*
Fresh is Better
The fresher the lens, the better your eyes will feel. 1-DAY ACUVUE® MOIST® Brand Contact Lenses for daily disposable use and ACUVUE® OASYS® Brand Contact Lenses for two-week wear are great options to keep your eyes feeling their best.
Breathability
ACUVUE OASYS® lens material allows nearly 100% of available oxygen to pass through to your eyes and incorporates HYDRACLEAR® Plus Technology** which helps keeps your lenses moist all day long.
The #1 Eye Doctor Trusted Brand of Contact Lenses.1
With the highest UV protection of any contact lens brand* and unique comfort technologies like LACREON®* and HYDRACLEAR® !, ACUVUE® Brand Contact Lenses help keep your eyes comfortable, moist, and healthy.
High-tech, yet very simple.
ACUVUE® Brand Contact Lenses use the most advanced technology for eye comfort and eye health. Watch these videos to learn more.
+ Contact lenses automatically ship for free. Free Standard Shipping also applies to general store merchandise, contact lens solutions and accessories under 10 lbs when part of a contact lens order. Items ship separately.
1 In a randomly selected masked survey of 1,002 eye care professionals that included retail and independent doctors from across the US.
LACREON® is the Johnson & Johnson Vision Care, Inc. brand name for its proprietary technology that permanently embeds a water-holding ingredient, similar to that found in natural tears, into the proved etafilcon A material.
HYDRACLEAR® Plus is Johnson & Johnson Vision Care, Inc.'s brand name for the next generation of its proprietary technology that allows for a higher volume of a moisture-rich wetting agent in a state of the art formulation. This creates a more wettable, ultra smooth contact lens, especially for challenging environments that make eyes feel dry.
Important information for contact lens wearers: ACUVUE® Brand Contact Lenses are available by prescription only for vision correction. An eye care professional will determine whether contact lenses are right for you. Although rare, serious eye problems can develop while wearing contact lenses. To help avoid these problems, follow the wear and replacement schedule and the lens care instructions provided by your eye doctor. Do not wear contact lenses if you have an eye infection, or experience eye discomfort, excessive tearing, vision changes, redness or other eye problems. If one of these conditions occurs, contact your eye doctor immediately. For more information on proper wear, care and safety, talk to your eye care professional and ask for a Patient Instruction Guide, call 1-800-843-2020 or visit acuvue.com.
ACUVUE®, 1-DAY ACUVUE® MOIST®, ACUVUE® OASYS®, LACREON® and HYDRACLEAR® are trademarks of Johnson & Johnson Vision Care, Inc.
© Johnson & Johnson Vision Care, Inc., 2013