Reflecting Diversity in Our Mission
Diversity Fuels Future Growth
Diversity and inclusion at Walgreens are more than business initiatives, they are a way of life, embedded deep in our culture. As a retailer in diverse communities across the country and Puerto Rico, we want to reflect that diversity in many ways - in the products and services we offer, in our choice of the vendors and other entities with whom we do business and in our everyday interactions with our customers, patients and each other.
We are helping to ensure that our culture sustains diversity and inclusion through a number of programs to continue our existing diversity initiatives and implement new ones. Our Community Corner program fosters vendor diversity, and our Power of Alignment initiative is designed to enhance community business relationships. Many of our corporate Business Groups are devoted to workplace diversity and inclusion, led by employees and sponsored by executive team members. We are proud to have earned a 100 rating in the Human Rights Campaign Foundation's Human Equality Index, and we have been recognized as a "Best Diversity Company" by Diversity/Careers magazine for our commitment to workplace diversity. Walgreens has a long history of outreach - offering and enhancing employment opportunities for people with disabilities. Many positions in two of our newest distribution centers, including management positions, are filled with people living with disabilities.
Diversity and inclusion are key aspects of Walgreens strong value system and culture, which have carried us through more than a century of service to our communities. I hope you'll explore this site, which provides a look at our commitment to diversity and inclusion.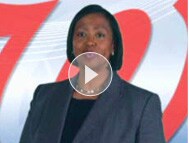 Kathleen Wilson-Thompson is Executive Vice President and Global Chief Human Resources Officer of Walgreens Boots Alliance, Inc. Hear more about the company's commitment to diversity.
> Watch Video
> Read the transcript*