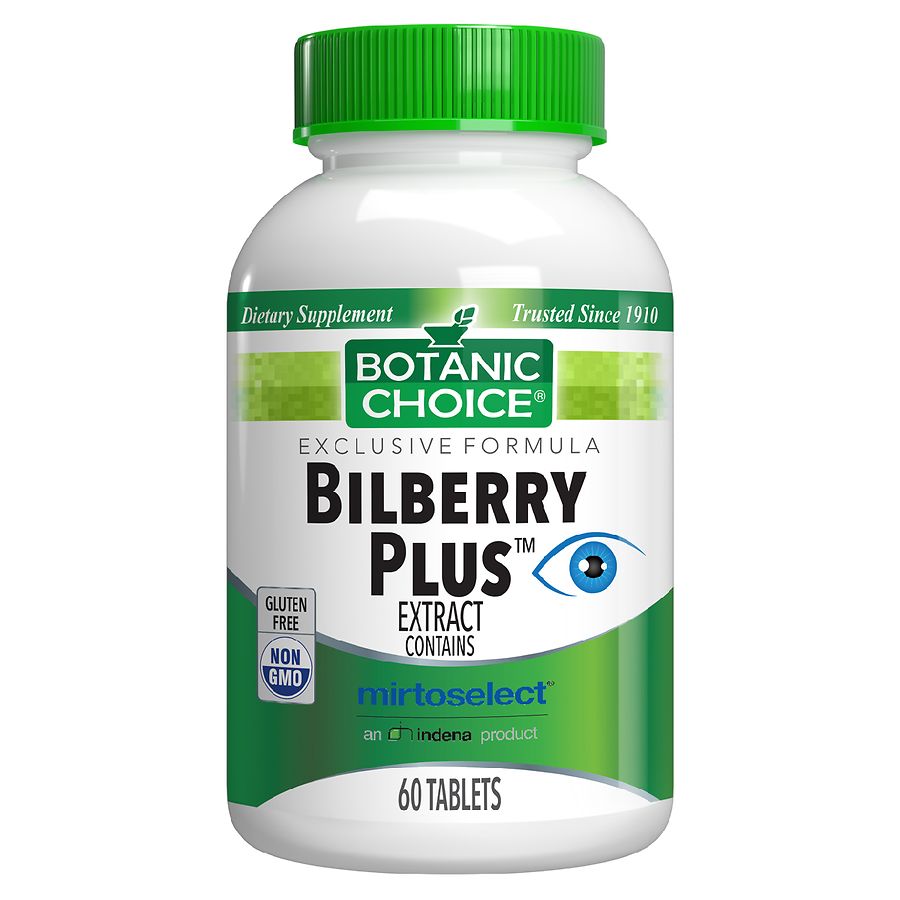 Botanic Choice Bilberry Plus Herbal Supplement Tablets
60ea
Ship to home FREE at $35
|
Ship to Store FREE! Details
Details
Quick view
Fosters healthy nails
Creates luxurious-looking hair
Gives skin a youthful appearance
Traditional supporter of eye health and night vision
Delivers a high quality bilberry extract from Mirtoselect
Offers added ingredients for healthy skin, hair and nails
Promotes healthy circulation
Works to help fight free radicals
Fading vision ranks as a top issue for many Americans. Unhealthy eyes can cause a lot of issues and even threaten freedom and independence. But Bilberry Plus tablets work to address vision concerns and more. As the name suggests, it all starts with bilberry, the secret of WWII pilots. Bilberry, The night-vision secret of WWII pilots: called blueberry in Europe, bilberry's use stretches back many years. In fact, history has it that bilberry was first taken by British Royal Air Force pilots in WWII so they could see better during their nighttime bombing runs. Today it's no surprise it's such a popular nutrient. No ordinary bilberry. Always committed to the highest quality ingredients, Botanic Choice doesn't use ordinary Bilberry. We use a superior branded extract called Mirtoselect bilberry that's standardized to contain 36% anthocyanins, the potent portion of the bilberry fruit. It is obtained exclusively from bilberry (Vaccinium myrtillus L.) fresh fruits harvested when they're at their ripest between July and September. Its production does not involve any chemical treatment. Mirtoselect is the original bilberry standardized extract that's technology-based. Extensive clinical and pharmacological data and human studies support its efficacy. If vision protection was the only benefit of Bilberry Plus with Mirtoselect ¿we'd have a winner. But what takes this formula from good to fantastic is that it does so much more for your entire body. That's the plus of these unbelievable bilberry tablets.¿ Healthy nails: If your nails are dry, brittle or splitting, Bilberry Plus may help. The secret? Vitamin B-2. Also known as Riboflavin, this important nutrient is not stored in the body so it must be replenished daily. Your B-2 levels can also be further zapped by certain medications. Your body needs Vitamin B-2 for healthy, pink, strong nails.¿
Luminous skin: Currently you'll find carrot-based skin products in various creams, lotions and cosmetics, but Botanic Choice has been leading the way with the inclusion of carrot powder in a variety of our own beauty care line for years. Now we've also included it in our Bilberry Plus tablets. A natural source of beta-carotene, Carrot Powder helps to give your skin a radiant glow.
Beautiful hair: Did you know the average person normally sheds 50-100 strands of hair every day? If you're lucky, it grows back. If not, then Vitamin A may be a good way to help. Vitamin A not only supports eye healthy, but nutritionists are also discovering it's an important building block for healthy, beautiful hair, too. Bilberry Plus tablets deliver all of this Bilberry Extract. An antioxidant that fights free radicals, our high quality Mirtoselect¿bilberry extract is standardized to contain 36% anthocyanins. Vitamin B-2 -Supports general health and wellness, B-2 also resides in the retina and supports strong eyes as well as playing a role in healthy complexion. Carrot Powder -The old wives' tale about carrots being good for your vision may be true! Plus it's a source of beta-carotene that helps promote healthy-looking hair and skin. Citrus Bioflavonoids -This superior-grade collection of Bioflavonoids found in citrus fruit helps combat free radicals at the cellular level. Vitamin A - Plays a role in vision, skin and hair while also offering antioxidants.¿¿
The bottom line: This amazing blend gives you a full arsenal to fight the signs of aging eyes, skin, hair and nails. ¿
Try this popular bilberry formula today. You'll only find it here!
Any questions? 1-800-644-8327
*These statements have not been evaluated by the Food and Drug Administration. This product is not intended to diagnose, treat, cure or prevent any disease.
Take 1 tablet twice daily, with a meal, as a dietary supplement, or as directed by a physician. © 2012 Indiana Botanic Gardens, Inc.
Warnings
If you are taking any medications or are pregnant or nursing do not use prior to consulting a physician. Women who are pregnant or may become pregnant are recommended not to exceed 5,000 IU of vitamin A per day. KEEP OUT OF REACH OF CHILDREN..
Ingredients
Dicalcium Phosphate, Microcrystalline Cellulose, Stearic Acid, Croscarmellose Sodium, Magnesium Stearate, Dextrose, Silicon Dioxide, Cornstarch, Sucrose, BHT, Gelatin and Aqueous Film Coating, (Purified Water, Hydroxypropyl Methylcellulose, Polyethylene Glycol)
Single
Serving Size
Serving Per Container
Amount per Serving
%DV
MirtoSelect Bilberry Fruit
7.2mg
Carrot Powder
100mg
Citrus Bioflavonoid Complex
100mg
Flavanone - Citrus Bioflavonoid Complex
70mg
Flavanones - Citrus Bioflavonoid Complex
28mg
Flavonols, Flavones and Related Phenolic Compounds - Citrus Bioflavonoid Complex
2mg
Vitamin A
5000IU
100
Riboflavin (B2)
20mg
1176
Calcium
96mg
10
Phosphorus
74mg
8
Shop more Vitamins & Supplements