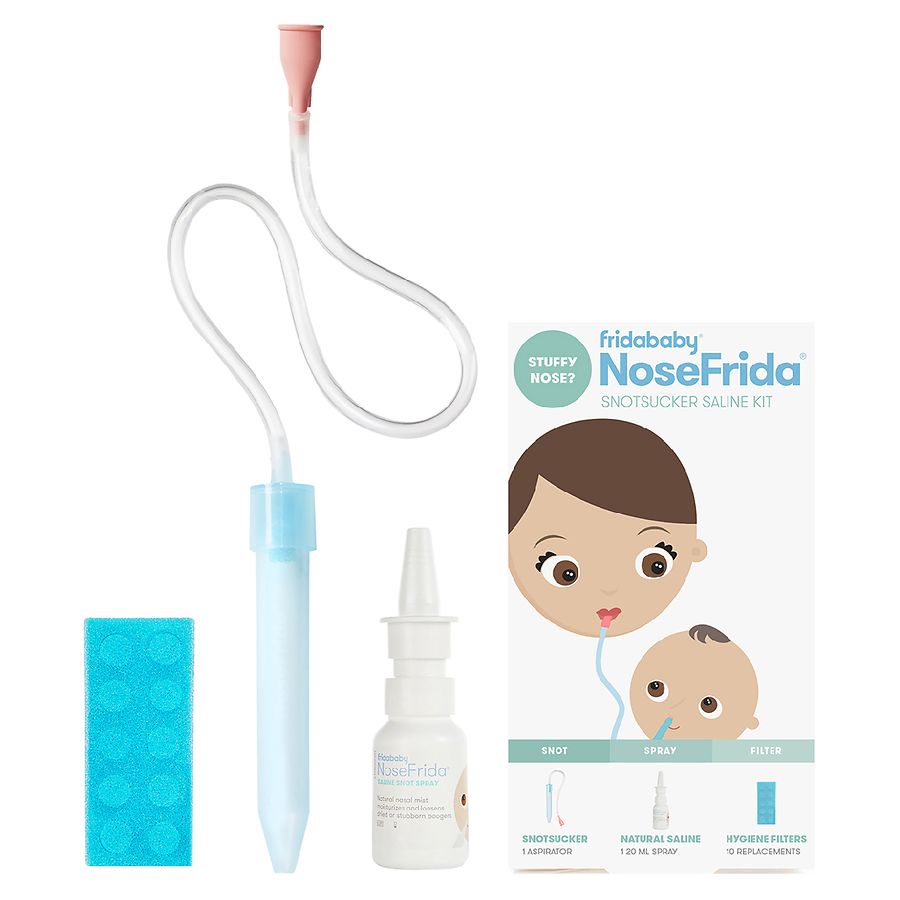 FridaBaby Snotsucker Saline Kit
1.0 ea
4.8
(46)
Online and store prices may vary
Quick view
Moisturizes nasal passages
Small applicator tip
No harmful side effects
Saline Mist: NoseFrida NasalMist is the all-natural, simple saline solution. By "simple" we mean two ingredients-sea salt + water-that's all! The gentle formulation moisturizes nasal passages allowing for seamless snotsucking when used with the NoseFrida Nasal Aspirator. Our small applicator tip is specially designed for tiniest of tots. Go ahead and spray away-use as often as needed without any harmful side effects!
NoseFrida is the doctor-invented, doctor-recommended, fabulously reviewed snotsucker. It's smart, it's Swedish, it's maybe a little strange but it's completely hygienic thanks to the included filters. It's the nasal aspirator that actually works!
The Fuss Stops Here
A Fridababy Product
Kit Includes
Nasal Aspirator: Non-Invasive
BPA Free
Easy to Clean
Top-Rack Safe
Nasal Mist
Natural-Two Ingredients Sea Salt + Water That's All!
Specially Formulated and Designed with Small Noses in Mind!
10 Replacement Hygiene Filters
Made in Sweden
Saline Mist: To use (For nasal use only): Mist (Toddlers/Children): Pump once or twice into the air to ensure an even spray, then pump firmly into each nostril. To clean: Wipe applicator tip clean after each use. Store at 68¿77 F (20¿25 C). © 2015 FridaBaby LLC
Safety: Tube does not go inside the nose, so baby will not get injured if he/she moves. Only use NoseFrida for nasal aspiration¿do not use in ears or throat. Do not blow air into red mouthpiece while tube is placed at child's nostril. NoseFrida is not a toy¿keep all parts away from children. Never attach NoseFrida to a machine.
Water, 0.9% Natural Sea Salt (Isotonic Solution), pH Neutral.