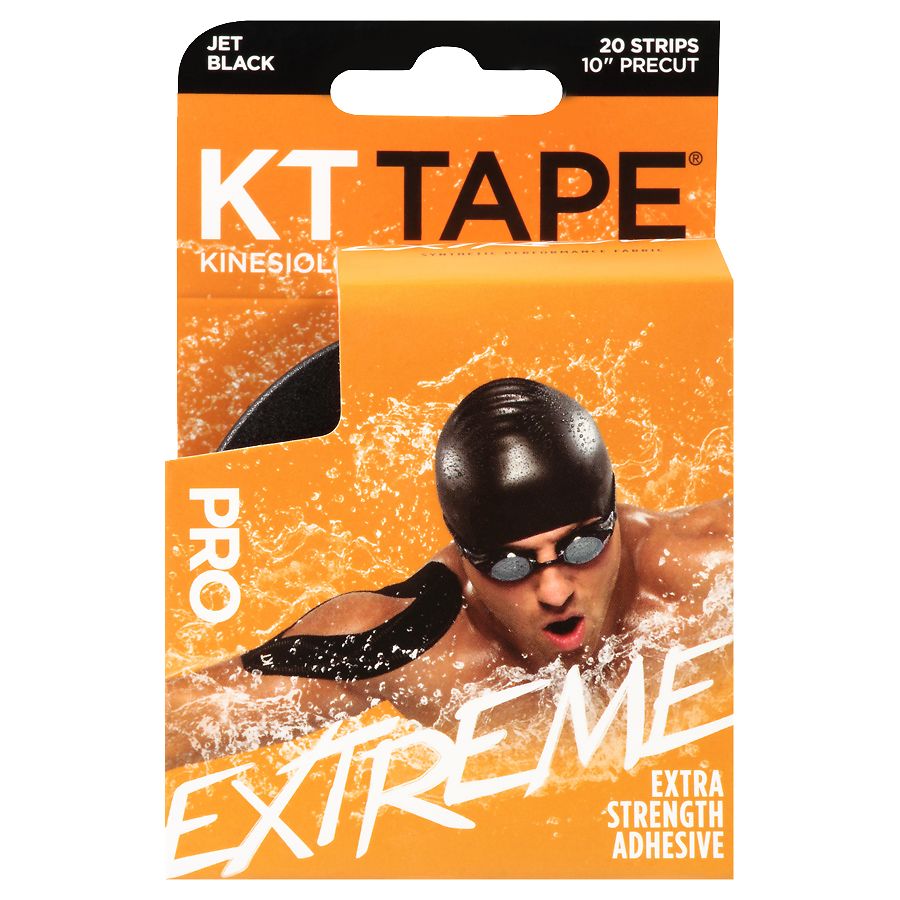 KT Tape Pro Extreme 10'' Strips Black
20.0 ea
4.0
Online and store prices may vary
Inside the box: Roll of 20 precut strips; Basic instructions.
For common injuries:* Carpal tunnel, hamstring, strain, wrist pain, runner's knee, neck strain, calf strain, shoulder pain, achilles tendonitis, tennis elbow, plantar fasciitis, golfer's elbow, shin splints, rib pain, ankle sprain, gluteus pain, quad strain. Skin adhesion best. Wet conditions best. Extreme activities best. Extra humid climate best. Oily skin best.
Elastic sports tape for pain relief and support*
Synthetic performance fabric
Extra strength adhesive
10" precut
*Not clinically proven for all applications.
Made in China
© 2015 KT Health, LLC.
Discontinue use if skin becomes irritated or sore. Instructions provided are for educational use only. Cancer patients should not use KT Tape as it may interfere with treatment. Do not use on abdomen if pregnant. Do not place KT Tape directly over cuts or open wounds. Warranties and remedies limited to product replacement cost.
For Common Injuries*
Carpal Tunnel
Hamstring Strain
Wrist Pain
Runner's Knee
Neck Strain
Calf Strain
Shoulder Pain
Achilles Tendonitis
Tennis Elbow
Plantar Fasciitis
Golfer's Elbow
Shin Splints
Rib Pain
Ankle Sprain
Gluteus Pain
Quad Strain
*Not clinically proven for all applications