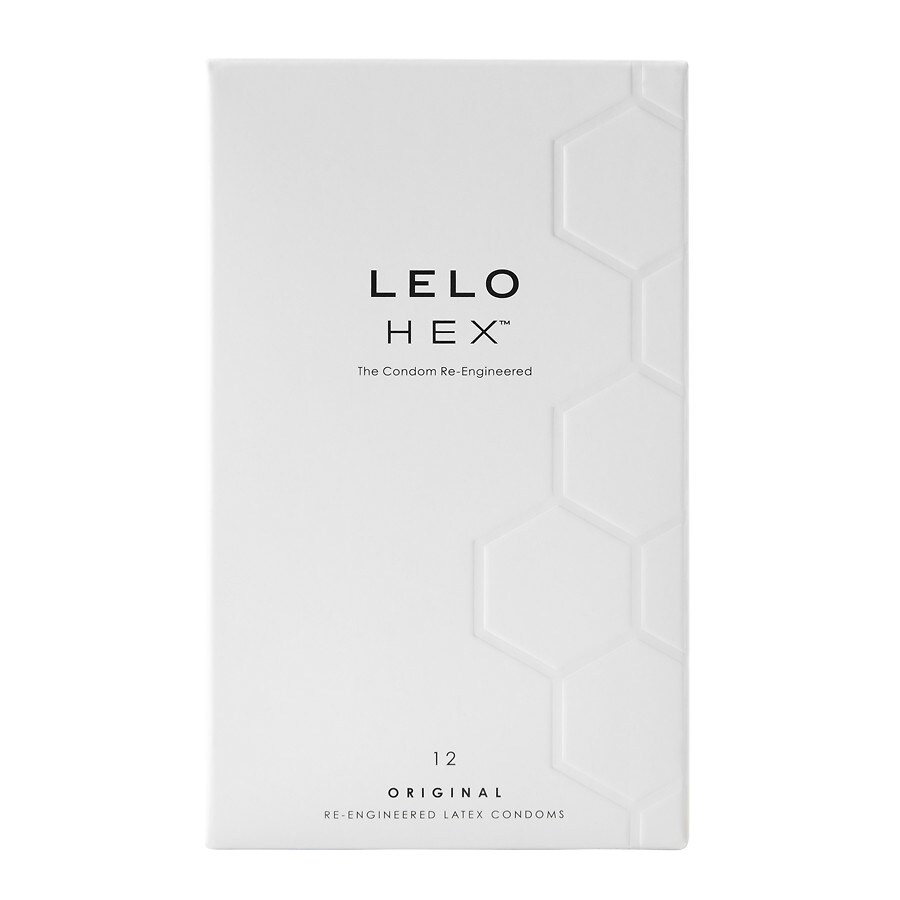 Lelo Hex Latex Condoms
12ea
5.0
Ship to home FREE at $35
|
Ship to Store FREE! Details
Eligible for Auto-Reorder & Save
Details
Details
OUR WORLD HAS CHANGED. THE CONDOM HASN'T. UNTIL NOW.
Pleasure & safety through innovation
Strength & thinness combined
HEX condom offers respect and luxury
LELO HEX™ delivers strength, thinness and sensation through structure, described by experts as 'the first major condom innovation in 70 years'. Boasting a structurally different design that integrates a hexagonal web through the latex, the 350 ultra-thin HEX panels make it look and perform differently to any other condom today.
The innovation is based on the discovery that to revolutionize the condom, it wasn't the material of latex that needed to change, but the structure itself. When enjoying with LELO HEX™ users report that not only do the hexagons tessellate and mold to the unique shape of the wearer, the design can also be seen to channel unwanted stress through the structure itself, providing pleasure, safety and comfort.
WHY HEX™ CHANGES EVERYTHING?
• Strength & Thinness Combined – the strength of the thickest condom combined with the pleasure of the thinnest – as ultra-thin panels are contained with hexagonal web
• Pleasure & Safety through Innovation – the honeycomb structure molds comfortably to the uniqueness of the wearer. It's also the world's first condom to have a web raised on the inside, to minimize chances of slippage, just as a wet weather tire grips the road
• Respect & Luxury Guaranteed – beautifully designed packaging and neutralized-latex scent for a superior experience of condoms as a whole
• Unique Engineering & Design Principles – inspired and influenced by physical and geometric laws, described as the first innovation in condoms for 70 years
Launched in Summer 2016, LELO HEX™ caused a global media storm of interest and support, backed and recommended by A-list celebrities and published in more than 2000 websites worldwide. Discover how HEX™ changes everything you thought you knew about condoms, and start having great, safe sex today.
Made in Thailand
Latex condoms are intended to prevent pregnancy, HIV/AIDS, and other sexually transmitted infections.
1. Use a new condom for each act of sex. Lesion, pre-ejaculate secretions, semen, vaginal secretion and blood can all transmit infectious organisms. Either partner can put the condom on the erect penis during foreplay. Take care to do this before the penis touches the other person. This helps to prevent pregnancy and the possibility of catching sexually transmitted infections.
2. Check the expiry date on the condom wrapper before you use it. If the individual container is obviously damaged discard that condom and use a new one from an undamaged package. Tear the wrapper open from the serrated edge and handle the condom carefully, as it can be damaged by fingernails and sharp objects like jewelry and body piercings.
3. Check the roll is on the outside. If it's on the inside, the condom is inside out. Squeeze the tip of the condom so no air is trapped inside.
4. Still squeezing the tip, place the condom on top of the penis and roll it down with your other hand. If it starts to roll back up during sex, roll it back down straight away. If it comes off, stop and put a new condom on.
5. Soon after ejaculation and while the penis is still erect, the condom should be held firmly in place at the base of the penis before withdrawal. Then simply take the condom off, wrap it in a tissue and put it in the bin. Please don't flush it down the toilet.
©LELO
Warnings
DEGREE OF STI PROTECTION
• When used correctly every time you have sex, latex condoms help prevent pregnancy and reduce the risk of transmitting HIV/AIDS and other sexually transmitted infections. They do this by providing a barrier against the source of infection.
• Latex condoms do not completely eliminate the risks of pregnancy and sexually transmitted infections (STIs).
• Latex condoms are most effective against STIs such as HIV infection (AIDS) and gonorrhea that are spread by contact with the head of the penis.
• Latex condoms are less effective against STIs such as Human Papillomavirus (HPV) and herpes. These STIs can also be spread by contact with infected skin that is not covered by the condom.
• If you believe you have an STI, contact a healthcare provider. For more information on latex condoms or STIs, contact a healthcare provider or a public health agency.
• If you have questions about birth control options, particularly because of health reasons or to avoid pregnancy, or if after intercourse you are concerned you or your partner may have become pregnant, consult a healthcare provider.
CAUTION: this product contains natural rubber latex which may cause allergic reactions. Some individuals may experience sensitivity to latex products, please consult your healthcare provider before use. If you or your partner experience discomfort while using this product, discontinue use. If symptoms persist, contact a healthcare provider.
Customers who bought this also bought...