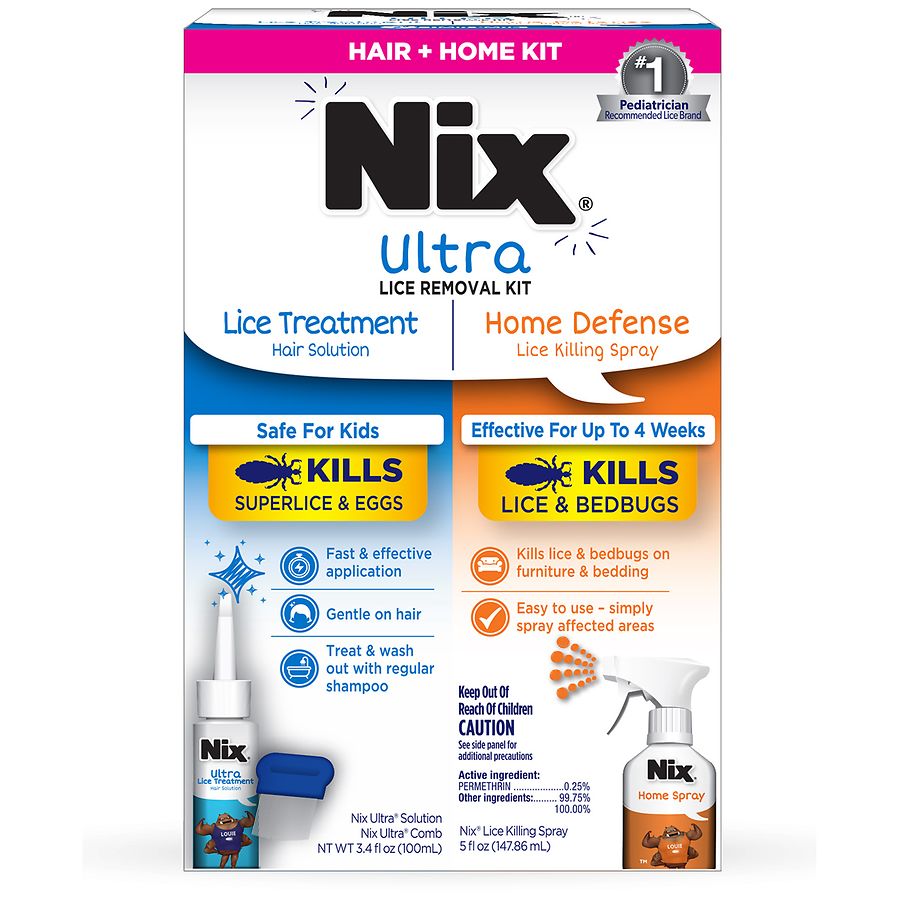 Nix Ultra Lice Removal Kit
1.0 ea
3.6
(3)
Online and store prices may vary
#1 pediatrician recommended brand
Apply, removal, control
Kills super lice & eggs
Harder-to-kill super lice have developed resistance to many traditional lice treatments. The number of super lice continues to increase in the United States.
Ultra solution and lice removal comb are specially designed for both super lice and regular lice, including eggs.
#1 pharmacist recommended brand
Odorless
Non-irritating & hypoallergenic
Free of pesticides
Contains:
Ultra solution 3.4 oz (100 mL)
Lice removal comb
Lice control spray 5 oz (147.86 mL)
Made in Czech Republic and China
1-888-LiceLine (1-888-542-3546)
Important: Read warnings before use. Keep Ultra Solution away from eyes. Protect eyes with washcloth or towel. See enclosed leaflet for complete directions in English and Spanish. Ultra Solution: Spread solution on dry hair, completely saturating hair and scalp. Ensure coverage behind ears and on back of neck. Leave Ultra Solution in hair for 10 minutes. Wash hair thoroughly with regular shampoo. Do not use conditioner or shampoo that contains conditioner. Ultra Solution conditions hair for easy combing. Towel dry hair. Safe, non-toxic, when used as directed. Complete saturate hair and scalp. See below for usage guidelines. Usage may vary.
Short hair length: 4+ applications per bottle
Medium hair length: 3 applications per bottle
Long hair length: 2 applications per bottle
Lice Comb: Use lice removal comb (included) to remove nits and lice. Part hair into four sections. Comb one section at a time. Start at top of head. Lift 1-2 inch wide section of hair. Place teeth of comb as close to scalp as possible and comb with firm, even motion away from scalp to the end of the hair. Use clips to pin back each strand of combed hair. Clean comb during use by wiping lice and nits onto tissue. Discard tissue into sealable plastic bag. After combing, recheck the entire head for lice and nits. Seal and discard plastic bag containing nits and lice. Check hair after 7 days and repeat use if necessary. Lice Control Spray: It is a violation of Federal law to use this product in a manner inconsistent with its labeling. For use in non-food areas of homes. Indoor application: Surface spraying: To kill lice and louse eggs: Spray in an inconspicuous area to test for possible staining or discoloration. Inspect again after drying, then proceed to spray entire area to be treated. Spray from a distance of 8 to 10 inches. Treat only those garments and parts of bedding, including mattresses and furniture, that cannot be either laundered or dry cleaned. Allow all treated articles to dry thoroughly before use. To control bedbugs: Spray mattresses lightly, particularly around tufts and seams. Take beds apart and spray in all joints. Allow all sprayed articles to dry thoroughly before use.
Do not use in food/feed areas of food/feed handling establishments, restaurants or other areas where food/feed is commercially prepared or processed. Do not use in serving areas while food is exposed or facility is in operation. Serving areas are areas where prepared foods are served such as dining rooms, but excluding areas where foods may be prepared or held
In the home, cover all food handling surfaces, cover or remove all food and cooking utensils or wash thoroughly after treatment
Application is prohibited directly into sewers or drains, or into any area like a gutter where drainage to sewers, storm drains, water bodies, or aquatic habitat can occur. Do not allow the product to enter any drain during or after application
Storage and disposal: Do not contaminate water, food or feed by storing or disposal. Pesticide storage and spill procedures: Keep from freezing. Store upright at room temperature. Avoid exposure to extreme temperatures. In case of spill or leakage, soak up with an absorbent material such as sand, sawdust, earth, fuller's earth, etc. Dispose of with chemical waste. Pesticide disposal: If partly filled - Call your local solid waste agency for disposal instructions. Never place an unused product down any indoor or outdoor drain. Container disposal: If empty - Nonrefillable container. Do not use or refill this container. Place in trash or offer for recycling if available.
©2016 Insight Pharmaceutical Corporation
Not for use by people with hypersensitivity to mineral oils or silicone
Stop use if signs of a rash or irritation occur
Avoid contact with eyes, mouth and nose. In case of contact, rinse thoroughly with water
Not for use on children under 2 years of age
For external use only. Do not swallow
Keep out of the reach of children. If swallowed, seek medical help or contact a Poison Control Center (1-800-222-1222) immediately
Keep treated hair away from fire or flame. Do not smoke during use
If spilled, clean up immediately. Product can be slippery
Lice Control Spray:
NOT FOR USE ON HUMANS. Read entire label before each use. Shake bottle well before using.
Environmental hazards.

This product is extremely toxic to fish and aquatic organisms. To protect the environment, do not allow pesticides to enter or run off into storm drains, drainage ditches, gutters or surface waters.
Active Ingredients:
Permethrin (CAS#52645-53-1) 0.25%
Inactive Ingredients:
Dimethicone, Mineral Oil
Show more
With Card:Buy 2, get 3000 points