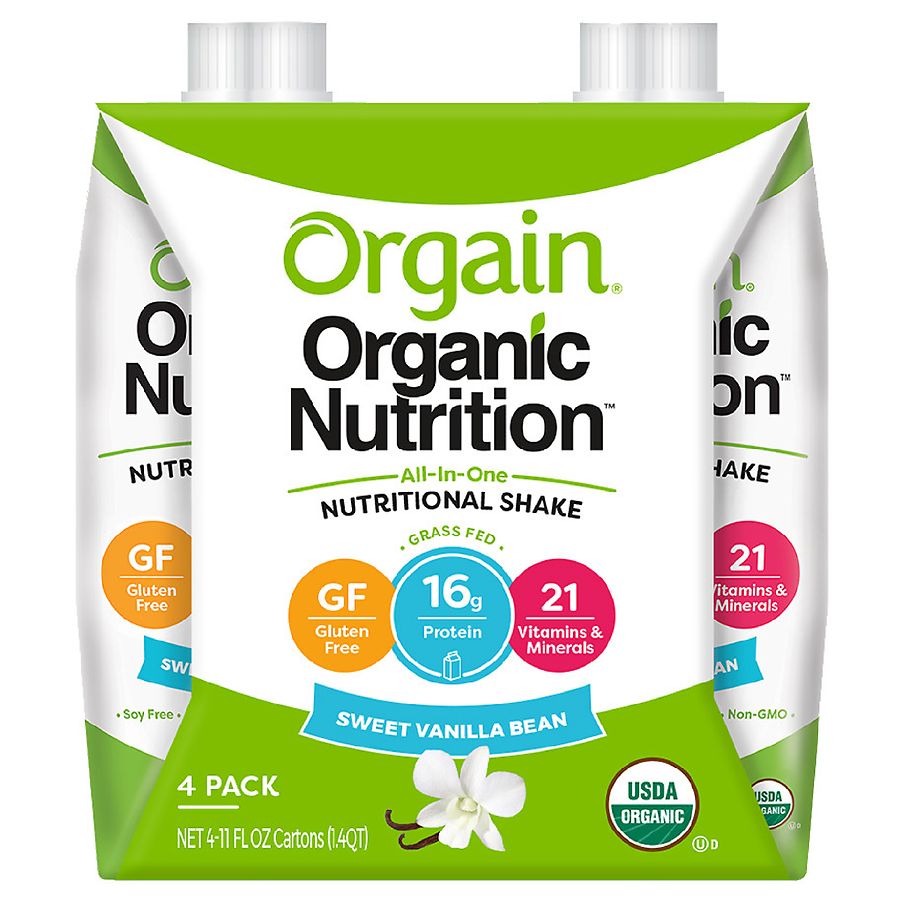 Orgain Organic Nutritional Liquid Shakes Vanilla Bean
11.0 oz.
x 4 pack
5.0
(3)
Packed with organic, grass-fed protein, vitamins and minerals and a blend of organic fruits and veggies, these shakes are a convenient, delicious way to stay energized and satisfied. Perfect for a wholesome meal replacement, a filling snack, or for those who need high-quality liquid nourishment. Non-stop nutrition at its best.
16g Organic Grass Fed Protein
21 Vitamins & Minerals
Organic Fruit & Veggie Blend
Gluten Free, Soy Free, and Non-GMO
Creamy and Delicious!
Chill, shake, and drink.
© Orgain, Inc.
ALLERGEN STATEMENT:
Contains milk
Single
Filtered Water, Orgain Organic Protein Blend﾿ (*Organic Milk Protein Concentrate, Organic Whey Protein Concentrate), Organic Cane Sugar, Organic Brown Rice Syrup, Organic Rice Dextrins, Organic HighᅠOleicᅠSunflower Oil, Organic Natural Flavor, Organic Inulin, Orgain Vitamin & Minerals Blend﾿ (Sodium Ascorbate, Magnesium Sulfate, Zinc Gluconate, dl-Alpha Tocopheryl Acetate, Niacinamide, Vitamin AᅠPalmitate, ᅠPotassium Iodide, Copper Gluconate, Biotin, Calcium D-Pantothenate, Cyanocobalamin, Cholecalciferol, Folic Acid, Thiamine Hydrochloride, Pyridoxine Hydrochloride, Riboflavin), Organic Rice BranᅠExtract, ᅠTrisodium Phosphate, Tricalcium Phosphate, Tripotassium Citrate, Gellan Gum, Potassium Chloride, Sea Salt, Organic Locust Bean Gum, Orgain Organic Fruit Blend Powder﾿ (Organic Acai, OrganicᅠApple, ᅠOrganic Banana, Organic Blueberry, Organic Raspberry), Orgain Organic Veggie Blend Powder﾿ (Organic Tomato, Organic Spinach, Organic Beet, Organic Carrot, Organic Kale), Natural Flavor, Contains- Milk
Show more