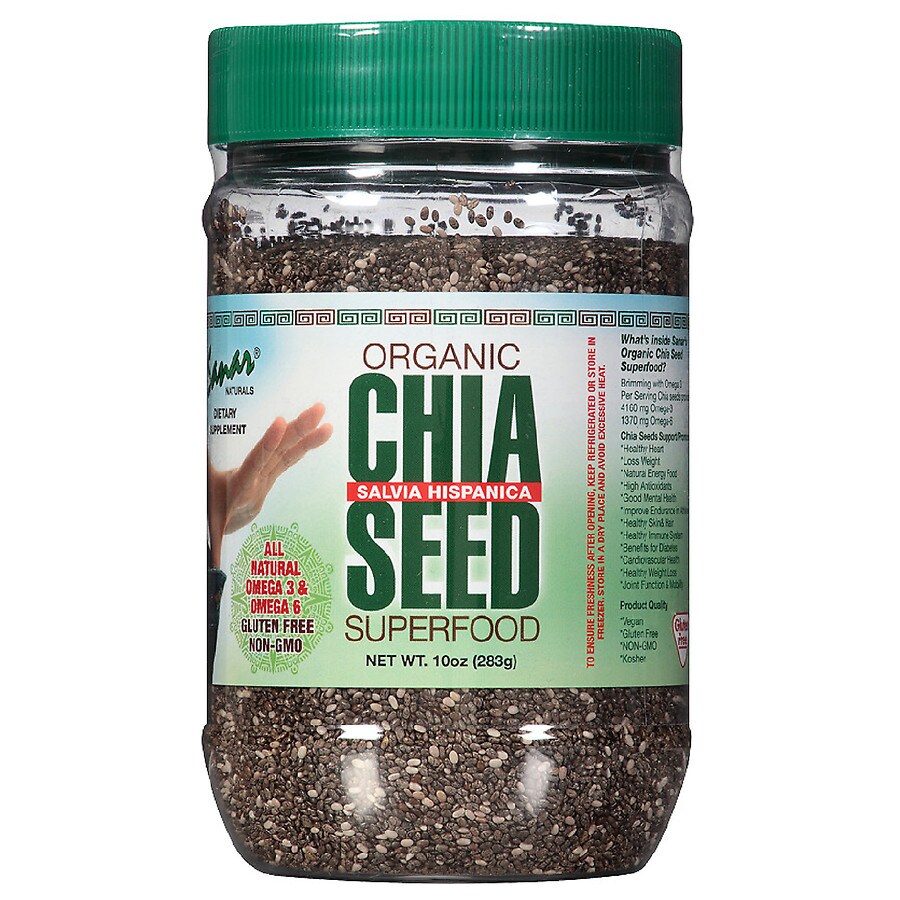 Sanar Naturals Chia Seed
10.0 oz.
Quick view
Great source of omega 3 & 6
Natural energy food
For healthy heart, skin & immune system
Dietary Supplement
Organic Chia (Salvina Hispanica) Seed
Superfood
All Natural Omega 3 & Omega 6
Gluten Free
Non-GMO
What's inside Sanar's Organic Chia Seed Superfood?
Brimming with Omega 3 per serving China seeds provide
Chia Seeds Support / Promote:
Healthy Heart
Loss Weight
Natural Energy Food
High Antioxidants
Good Mental Health
Helps Improve Endurance in Athletes
Healthy Skin & Hair
Healthy Immune System
Benefits for Diabetes
Cardiovascular Health
Healthy Weight Loss
Joint Function & Mobility
Product Quality
Vegan
Gluten Free
Non-GMO
Kosher
Chia Seed served as the power food of the ancient Aztec's and according to Spanish manuscripts, the Aztecs ate the seeds of this semitropical plant to help improve their endurance. They called it their "running food" because messengers could purportedly run all day on just a handful. The Aztecs prized this grain more highly than gold and they even used it as medicine. In Modern day, Chia has been a great source of Omega 3 and 6 and perfect for Diabetic and Gluten Free Diets.
Made in USA
*These statements have not been evaluated by the Food and Drug Administration. This product is not intended to diagnose, treat, cure or prevent any disease.
We recommend eating 2 tablespoons (20 g) daily. Add to almost any food or mix chia seeds with liquid at a 9 to 1 ratio to form a gel. Consume chia gel directly or add it to virtually any food like smoothies, oatmeal, muffins, sauces, salads, yogurt. Possibilities are endless.
To ensure freshness after opening, keep refrigerated or store in freezer.
Store in a dry place and avoid excessive heat.
©2015 Sanvall Enterprises Inc.
Single
Serving Size
1 Tbsp
Serving Per Container
Approx. 20
Amount per Serving
%DV
Total Fat
4g
6
Saturated Fat
0g
Trans fat
0g
Cholesterol
0mg
0
Sodium
0.5mg
0
Total Carbohydrate
5.5g
1
Dietary fiber
4.8g
18
Sugars
0g
0
Protein
4g
Omega-3
3g
Omega-6
1g
Vitamin A
0iu
0
Vitamin C
0mg
0
Calcium
0mg
10
Iron
0mg
8
Calories
66
Calories From Fat
36
Customers who bought this also bought
...