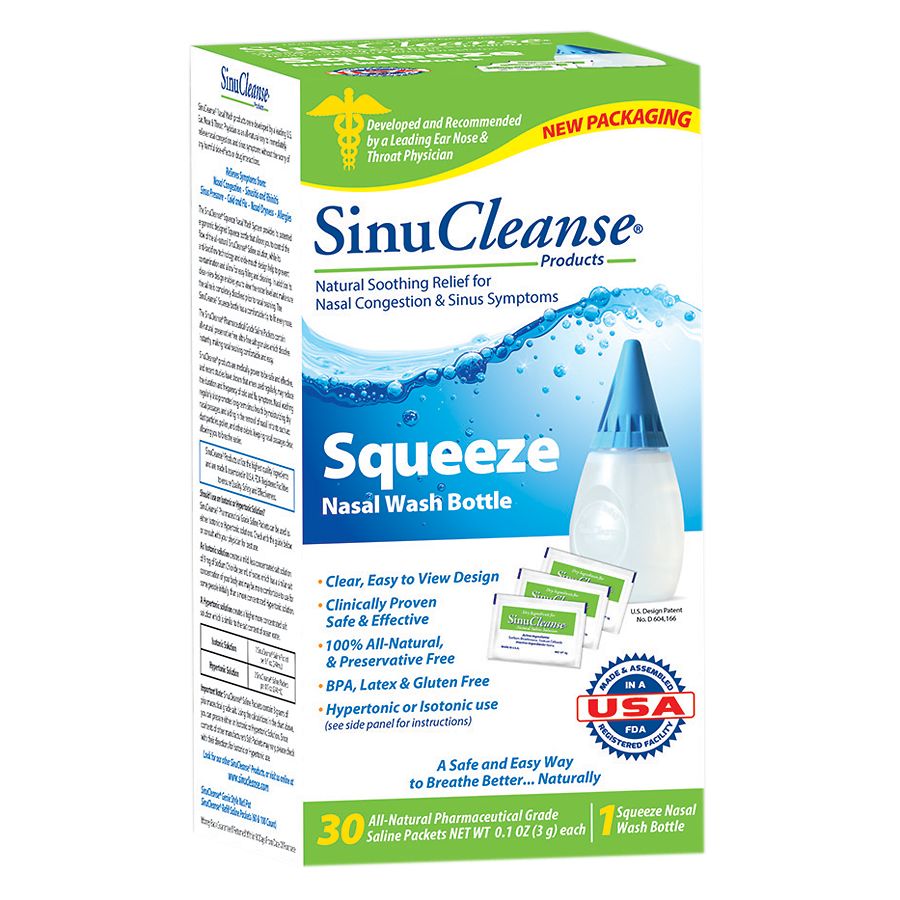 SinuCleanse Squeeze Nasal Wash Bottle Kit
1.0 ea
4.8
(6)
Quick view
Relief from congestion, sinus symptoms
Safe, easy way to breath better
Comfortable and soothing
Safe & Immediate Sinus Relief Naturally®
Includes: 30 All-Natural, Ultra-Fine Grain Quick Dissolving Saline Solution Packets
The Difference is the Design
Anti-Backwash Valve
Quick Thread Cap
Wide Mouth Bottle
Ergonomic Tip
Clinically Proven to Relieve:
Cold & Flu Symptoms
Allergy Symptoms
Nasal Congestion
Runny Nose
Sinusitis & Rhinitis
Sinus Headache
Reduces the Frequency & Duration of Colds and Flu
"As a practicing ear, nose and throat physician, I developed the SinuCleanse® system in 1997 to gently and safely relieve the sinus and nasal symptoms of my patients and their families. The SinuCleanse® system has been clinically proven to provide effective relief, and saline has been shown to reduce the frequency and duration of colds and flu with daily use. Unlike prescription drugs and other over-the-counter products, nasal washing actually treats the root cause of your sinus problems by thinning the thick secretions in your nose and sinuses.
Simply dissolve a packet o the pre-mixed, all natural cleansing saline ingredients in the SinuCleanse Squeeze® to gently and completely wash your nasal passages. Try the SinuCleanse Squeeze® today to get safe and immediate sinus relief...naturally!"
Diane Healthy, M.D.
Developer of the SinuCleanse® System
A complete, safe and effective nasal wash system for the entire family.
Made in the U.S.A.
Money back guarantee if returned within 90 days from date of purchase
Adults and children 4 years and over: Use 1-2 packets up to every 2 hours as needed
Children under 4 years: Consult a physician
Other Information:
Inspect saline solution packets for integrity
Do not use if open or torn
Protect saline solution packet from excessive heat and moisture
© 2009 Med-Systems, Inc.
Stop use and ask a doctor if washing is uncomfortable or symptoms are not relieved.
When using this product
Use by only one person
Wash with soap and water after each use
Top rack dishwasher safe
Do not heat in microwave
Keep out of reach of children
Temporarily relieves symptoms associated with sinusitis, cold, flu or allergies:
Sneezing
Runny nose
Nasal stuffiness
Post-nasal drip
Removes inhales irritants (dust, pollen)
Promotes nasal and sinus drainage
Helps reduce swelling of nasal membranes
Sodium Chloride (2300 mg) (Nasal Wash), Sodium Bicarbonate (700 mg) (Nasal Wash)