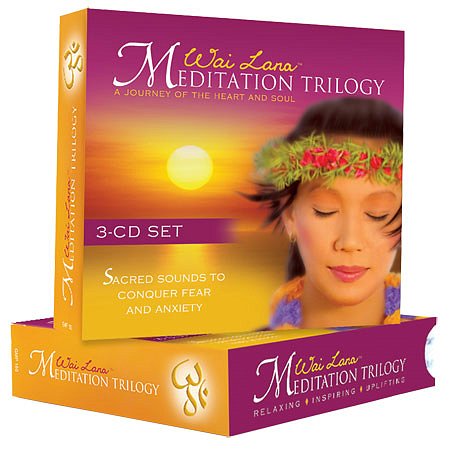 Wai Lana Wai Lana's Meditation Trilogy
1.0 ea.
Ship to home FREE at $35
|
Ship to Store FREE! Details
Details
Quick view
Relaxing, inspiring, and uplifting
Meditation guide and peaceful sound
Treasure in stressful times
Sacred sounds to conquer fear and anxiety.
3-CD set includes:

Rest and Relax

Yoga Music of the Heart

Yoga Sound™

Rest and Relax
On this CD, Wai Lana talks you through two relaxation techniques, followed by a restful meditation. These ancient techniques can relieve stress, anxiety, and depression. They will also help you overcome insomnia, enabling you to slip into deep and sound sleep. Wai Lana's calming voice and soft music will ease your mind, relax your body, and soothe your spirit.
CD Tracks
1: Free Your Mind (Yoga Breathing) - 8 min
2: Relax Your Body (Yoga Nidra) - 17 min
3: Soothe the Soul - 29 min

Yoga Music of the Heart
This album features some of the world's most outstanding and renowned musicians/guitarists, whose collaboration with Wai Lana has resulted in a one-of-a-kind, East-meets-West, ancient-meets-modern blend to perfection. It is that rare gem that simultaneously calms the mind and inspires the soul.
Soothe your nerves, calm your mind, and awaken your heart. Beautiful! Inspiring! Melodic!
CD Tracks

1: Beyond All Oceans - 5:10
2: Yi Tribal Dance - 4:12
3: Seaside - 5:32
4: Moon Among the Stars - 5:46
5: On This Planet - 5:03
6: Crystal Stream - 5:03
7: Rain Forest - 8:43
8: Call of the Plains - 4:01
9: Spiritual Love - 5:28
10: Lost Worlds - 6:22
11: Lake of Tranquility - 5:38

Yoga Sound™
Yoga sound is the heart and soul of yoga. Let Wai Lana's Yoga Sound™ take you on a meditative journey far beyond the stress, strain, and anxiety of everyday life. Get loose! Sing and dance with this colorful blend of ancient Sanskrit chants and songs with modern instruments and melodies. Beautiful! Dynamic! Uplifting!
CD Tracks

1: Awakening - 7:07
2: Radha Kunda - 7:41
3: Sunflower - 6:15
4: Mirror of the Mind - 9:41
5: Lionheart - 5:40
6: Swan Dance - 12:29
7: Sweet Gopala - 3:36
8: Most Beautiful Place - 5:00
9: Trance - 4:59

One year manufacturer's warranty.
Beware: Listening to these three CDs will leave you in an altered state (either really relaxed or just plain giggly). Wai Lana wants to take you on a New Age-inspired trek through the far reaches of the earth and of your mind. If you're up for a ride into the land of strange stretches and bewildering breathing, it might be worth the trip. Those who love to fight off their inner-hipster might just want to stay where you are.
-Melissa Morris, Splendid e-zine, May 25, 2002
Wai Lana's Meditation Trilogy: A Journey of the Heart and Soul is a three-CD set of guided meditation and peaceful sound. The individual CDs are entitled Rest and Relax, Yoga Music of the Heart, and Yoga Sound™. Wai Lana's beautiful voice is truly hypnotic, and these CDs are a treasure in these stressful times. Treat yourself to this!
-Aquarius, July 2002
© 2001 Wai Lana Productions, LLC
Warnings
WARNING: This product contains a chemical known to the State of California to cause birth defects or other reproductive harm.