Price and inventory may vary from online to in store.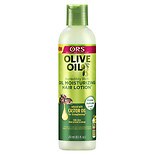 ORS Olive Oil Moisturizing Hair Lotion (8.5 oz.)
Andis High Heat Ethnic Flat Iron 1" Plates (1 ea)
Ethnic hair products
Shop the wide variety of ethnic hair products at Walgreens.com for hair care just right for you. Ethnic hair care options include many different hair treatments and styling products, from texturizers to hair sheen. Both women and men will find ethnic hair products from brands Africa's Best, BB, SoftSheen CarSon and more.
Check out all of our ethnic hair care products
In search of hair straightening options? A flat iron offers a daily styling solution while hair relaxers can straighten and smooth for a long-term style. To protect hair against damage from hot irons, hair dryers and chemical treatments, try a hair lotion & balm . You can also add luster to braids, twists, natural or relaxed hair with a shine product.
For a brand new look, browse our selection of hair extensions. Walgreens.com features an assortment that includes different types, shades and lengths. Choose from straight, wavy or curly extensions. Clip in a ponytail extension or braid extension that comes out easily. You can also choose a twist or bangs to vary your style. Everything you need to get started is here: weaving needle sets, weaving thread and hair bonding glue.
Hair products for any look
Shop our variety of African American hair care products designed for delicate hair. Some hair lotions, hair dress and conditioners for ethnic hair can help keep your hair and scalp healthy. Try a hair styling product like mousse & volumizers or hairspray made specifically to hold your weave in the style you want. There are even products to form, style and care for dreadlocks and braids.