Neighborhood
Health Destination
Neighborhood Health Destination
Walgreens is leveraging the expansive reach of our nationwide retail locations to create neighborhood health destinations. Your members can take advantage of convenient, affordable care that includes primary care, healthcare clinics, urgent care, lab services and optical, hearing and dental services.
Our strategic relationships with regional and national providers are a key component of our neighborhood health destinations. These collaborations allow us to provide national as well as locally-based service offerings to help increase regional depth and capabilities.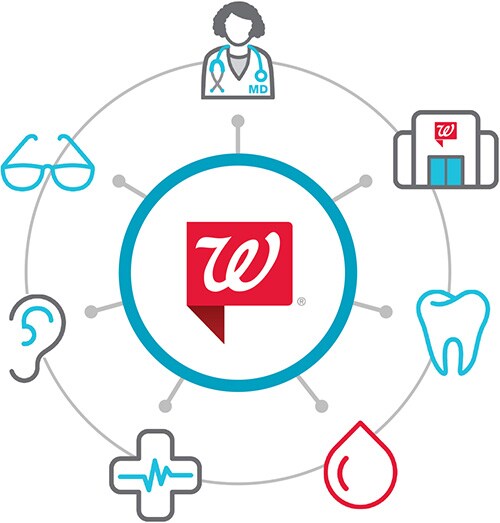 Your Challenges
Experts predict there will be a shortage of approximately 14,800-49,300 primary care physicians by the year 20301
Patients waited an average of 24 days to see a primary-care physician across 15 markets in 20172
Half of emergency department patients would have gone to a primary-care physician if an appointment was available when needed3
Costs per patient visit comparison
Patients of Walgreens Healthcare Clinics had lower costs and fewer ED visits.*4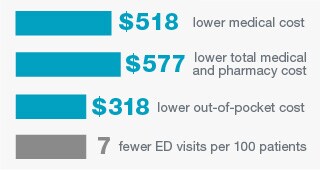 As many as 27 percent of emergency department (ED) visits could potentially be treated in lower-cost retail clinics.5
How We Can Help
Accessibility
Accessibility
Walgreens has clinic locations across 31 markets, most open seven days a week including evenings. Walk-ins are welcome.
47.8%

of retail clinic visits occur outside regular office hours6

Patients are in and out faster, thanks to paperless kiosk check-ins and an on-site pharmacy
Cost-Savings
Cost-Savings
Healthcare Clinic visits have significant savings potential, with a majority of the visits being for:7
Cough, cold, flu, sinus infections, bronchitis

Strep throat

Ear infections

Headaches and migraines

Minor joint pain

Minor injuries including sprains, strains, cuts and wounds
High-Quality Patient Care
High-Quality Patient Care
Patients receive a follow-up call within 48 hours and visit information is sent to their PCP

Access to state-of-the-art Epic electronic health record platform for enhanced communication with health systems and PCPs**

HEDIS scores that exceed the NCQA National Benchmarks in key areas of treatment.
Healthcare Clinic Research
After-Hours Access of Convenient Care Clinics and Cost Savings Associated with Avoidance of Higher-Cost Sites of Care
The convenience and access offered by Convenient Care Clinics may help reduce unnecessary emergency room and urgent care center visits, which may result in cost-savings for the healthcare system.
Read more ›
Patients Who Utilize Retail Healthcare Clinics Have Fewer Emergency Department Visits and Incur Lower Overall Healthcare Cost
Results from this study suggest that retail healthcare clinics provide an affordable alternative for many primary care services and may avert more costly non-emergent emergency department visits.
Read more ›
Comparison of Waiting and Consultation Times in Convenient Care Clinics and Physician Offices: A Cross Sectional Study
Patients using Convenience Care Clinics had significantly shorter waiting times from check-in to seeing a clinician and significantly longer consultation times with the clinician than those reported by patients seen at family practice physicians' offices.
Read more ›
References
* Medical cost, total cost, ED visits and out-of-pocket costs are all statistically different at P<0.05.
** Clinics operated by our partners often operate on the same Epic electronic health record platform.
1. The Complexities of Physician Supply and Demand: Projections from 2016 to 2030. Association of American Medical Colleges Web site. https://aamc-black.global.ssl.fastly.net/production/media/filer_public/85/d7/85d7b689-f417-4ef0-97fb-ecc129836829/aamc_2018_workforce_projections_update_april_11_2018.pdf. Accessed January 2019.
2. 2014 survey of physician appointment wait times and Medicaid and Medicare acceptance rates. Merritt Hawkins. https://www.merritthawkins.com/news-and-insights/thought-leadership/survey/survey-of-physician-appointment-wait-times/ Accessed November 2, 2018.
3. Coster JE, Turner JK, Bradbury D, Cantrell A. Why Do People Choose Emergency and Urgent Care Services? A Rapid Review Utilizing a Systematic Literature Search and Narrative Synthesis. Acad Emerg Med. 2017;24(9):1137-1149. https://www.ncbi.nlm.nih.gov/pmc/articles/PMC5599959/.
4. Clark B L, Hou, J, Boghani S. Patients who utilize retail healthcare clinics have fewer emergency department visits and incur lower overall healthcare cost. Paper presented at: 2015 AMCP Nexus; October 2629, 2015; Orlando, FL.
5. Blue Cross Blue Shield: The Health of America Report and Blue Health Intelligence. https://www.bcbs.com/healthofamerica. PDF version: https://www.bcbs.com/sites/default/files/file-attachments/health-of-america-report/BCBS.HealthOfAmericaReport.Retail.pdf.
6. Patwardhan A, Davis J, Murphy P, Ryan S. Comparison of waiting and consultation times in convenient care clinics and physician offices: a cross-sectional study [published online ahead of print June 11, 2012]. J Prim Care Community Health. doi:10.1177/2150131912450030.
7. Weinick RM, Burns RM, Mehrotra A. Many emergency department visits could be managed at urgent care centers and retail clinics. Health Aff (Millwood). 2010;29(9):1630-1636.
© Copyright Walgreens Co. All rights reserved.