Influenza and pneumonia remain the eighth-most-prevalent cause of death in the U.S.1 Prioritize members' health and keep costs low by encouraging vaccinations.
Walgreens has programs that bring flu shots on-site to your business and voucher programs for employees to use when getting their shot in-store. And with convenient night and weekend hours, your employees will have more options for finding an immunization plan that's right for them.
People avoiding vaccination
Only 45% of adults were vaccinated for the flu by mid-November 2018.2 Why?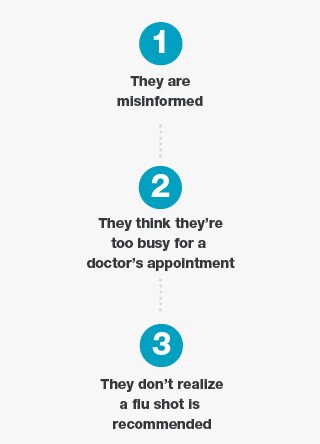 Up to 20 percent of the U.S. population contracts the flu annually, representing 24.7 to 60.8 million cases of the flu, resulting in $87 billion in overall costs.2
Vaccines reduce risk
Vaccines reduce risk
About

60%

fewer workdays lost, and 68% less presenteeism3
Up to

60%

lower flu risk4, 5

12.4%

flu-related hospitalizations prevented6

5.29

million flu-related illnesses prevented6

2.64

million flu-related medical visits prevented 6
Convenient hours, no appointments needed
Convenient hours, no appointments needed
31.5%

flu vaccinations given during off-hours 7
Highly trained medical professionals with years of experience
Highly trained medical professionals with years of experience
Coordination with primary care providers and state registries

Every pharmacist in every store is licensed to vaccinate
Walgreens offers vaccinations for:
Adults
influenza (flu)
pneumococcal (pneumonia)
zoster (shingles)
tetanus/diphtheria (Td)
hepatitis A and B
hepatitis A/B combo
Adolescents
meningococcal (meningitis)
tetanus/diphtheria/pertussis (Tdap)
human papillomavirus (HPV)
measles/mumps/rubella (MMR)
varicella (chickenpox)
Travel
polio8
Japanese encephalitis8
rabies
yellow fever8
typhoid fever8 (available at select Walgreens locations)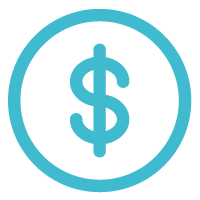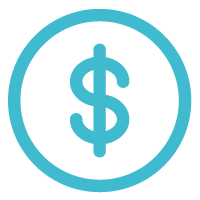 Cost savings
Cost savings
Of those adults vaccinated, almost 50 percent still receive the shot in a costly medical location.9 By helping make vaccinations easier and more affordable for members, you can help improve their overall health and help reduce your overall costs. According to a Walgreens cost-benefit model, there is substantial cost savings associated with being vaccinated at a pharmacy as compared to being vaccinated at a primary care provider's office.10
Digital approach
Digital approach
"Smart Recommendations" promote personalized care based on member history and CDC advice.

Easy-to-use mobile app with vaccination reminders and recommendations.

The Walgreens Flu Index, which provides state and market-specific information regarding flu activity. Visit the Walgreens Flu Index ›
Influenza Vaccination Uptake among Diabetes Patients in Community Pharmacies
Community pharmacies provide additional access and convenience as well as immunization counseling in order to maximize essential care for diabetes patients. The study found that 86.2% of patients immunized in the study were vaccinated before peak flu season.
Improving Pneumococcal and Herpes Zoster Vaccination Uptake: Expanding Pharmacist Privileges
This analysis demonstrates that states that offer pharmacists full immunization privileges have higher vaccination uptake rates than states with restricted or no authorization.
Vaccinations Administered During Off-Clinic Hours at a National Community Pharmacy: Implications for Increasing Patient Access and Convenience
With the low vaccination rates in the United States, community pharmacies are creating new opportunities for vaccination that expand access and convenience.
Visit the Walgreens Center for Health & Wellbeing Research ›
Want more information? Tell us a bit about your organization and a local representative will be in touch shortly.
Your Challenges
2. Molinari NA, Ortega-Sanchez IR, Messonnier ML, et al. The annual impact of seasonal influenza in the US: Measuring disease burden and costs. Vaccine. 2007;25(27):5086-5096.
3. Nichol, K. L., Heilly, S. J., Greenberg, M. E., & Ehlinger, E. (2009). Burden of influenza-like illness and effectiveness of influenza vaccination among working adults aged 50-64 years. Clinical Infectious Diseases, 48(3), 292-298.
How We Can Help
4. Vaccine Effectiveness - How Well Does the Flu Vaccine Work? Centers for Disease Control and Prevention (CDC) Website. https://www.cdc.gov/flu/about/qa/vaccineeffect.htm. Updated August 31, 2016. Accessed October 26, 2016.
5. Osterholm MT, Kelley NS, Sommer A, Belongia EA. Efficacy and effectiveness of influenza vaccines: a systematic review and meta-analysis. Lancet Infect Dis. 2012;12(1):36-44.
6. Centers for Disease Control and Prevention(CDC). Estimated influenza illnesses and hospitalizations averted by vaccination - United States, 2014-15 influenza season. https://www.cdc.gov/flu/about/disease/2016-17.htm. Updated 2017. Accessed January 2018.
7. Goad JA, Taitel MS, Fensterheim LE, Cannon AE. Vaccinations administered during off-clinic hours at a national community pharmacy: Implications for increasing patient access and convenience. Ann Fam Med. 2013;11(5):429-436.
8. Available at select Walgreens locations.
9. Influenza. National early-season flu vaccination coverage, United States, November 2017. Centers for Disease Control and Prevention Web site. https://www.cdc.gov/flu/fluvaxview/nifs-estimates-nov2017.htm. Accessed April 3, 2018.
10. Duncan IG, Taitel MS, Zhang J, Kirkham HS. Planning influenza vaccination programs: A cost benefit model. Cost Eff Resour Alloc. 2012;10(1):10.
© Copyright Walgreens Co. All rights reserved.