Select the Membership That's Right for You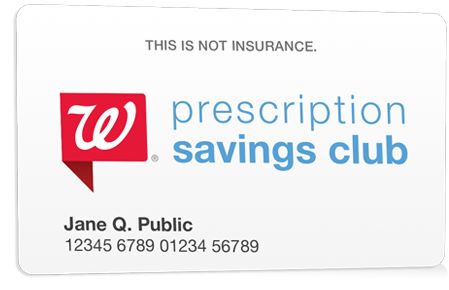 Individual Membership*
Get discounts on thousands of prescriptions and other health and wellness products and services.
Family Membership*
Pick this option if you want to the same great discounts for family members and pets too!
*Membership fee required ($20 individual or $35 family per year). Persons receiving benefits from a Medicare, Medicaid or Tricare program are ineligible. Program offers Member the right to purchase specified health care services from participating providers at a discounted rate. The average savings on purchases of a 90-day supply of a value-priced generic at: Tier 1 ($10) $50.41; Tier 2 ($20) $52.54; Tier 3 ($30) $118.08. The average savings for purchase of commonly prescribed quantities of covered: (i) brand name drugs is $31.16 and (ii) generics that are not value-priced is $21.79. Amount of the discount may vary based on type of item/service Member purchases but provider will not charge Member more than the discounted rate. Program does not make any payments to providers. Member is entirely responsible for paying discounted price to provider at time of service. Membership may be cancelled within 30 days of enrollment effective date for a full refund. To request: (i) a list of discounted services; (ii) a list of participating providers (name, city, state, specialty) and/or (iii) the full terms and conditions of the Program before joining, call 866-922-7312 or visit Walgreens.com/RxSavingsClub. WAGDCO, LLC, 104 Wilmot Rd., Deerfield, IL 60015 is a discounted medical plan organization regulated by State Insurance Commissioners.
The Program does not meet the minimum creditable coverage requirements under Mass. Gen. Law c. 111M and 956 CMR 5.00.
The Program is not a Medicare Prescription drug plan.