Price and inventory may vary from online to in store.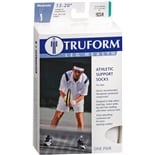 Truform Men's Athletic Style Over-the-Calf Length Firm (15-20 mm) Support Socks White (1 pr)
Truform Men's Athletic-Style Crew Length Firm (15-20 mm) Support Socks White (1 pr)
Athletic socks
While offering compression and support, our selection of men's athletic socks can help you stay comfortable throughout workouts or activities. Look for the athletic compression socks in a level of support that works for you, whether it's mild, medium or firm. Promote good circulation and healthy, comfortable feet by wearing men's athletic socks from brands such as Rejuvenizer, TruForm and Jobst.
All-day comfort
If you simply need a comfortable sock without compression, browse our variety of men's casual socks. We carry different colors and lengths of casual socks in addition to various sizes for a great fit. These casual socks come in multi-packs with one color or assorted colors. Ideal for wearing with sneakers or other casual shoes, casual men's socks can be easy to care for and comfortable to wear.
Healthy circulation
Looking for other styles of compression socks? You can find various styles with different levels of support that include firm, moderate and mild compression here at Walreens.com. There are knee-high and ankle-length socks to meet your needs, as well as casual and dress sock styles you can wear for the right occasions. If you need compression over the whole length of your legs, browse our supply of compression hosiery.