Price and inventory may vary from online to in store.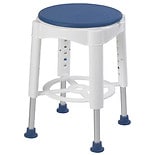 Drive Medical Bathroom Safety Swivel Seat Shower Stool Blue (1 ea)
Sale price is $51 and 99 cents

And Regular price is $55 and 98 cents
Bath stools
If you need extra stability in the bath or shower, bath stools can help. These bath seats can fit in small spaces to give you the added security you need. You can choose between bath stools in different colors and those that support different weights to find the one that suits your needs. Brands Drive Medical and Nova are here at Walgreens.com with different bath benches to help make bathing safer and easier.
For support and safety
Most bath stools are round and are made with rubber feet to give a steady grip on your tub or shower floor. You can choose a stool that adjusts to the height you need. If you're looking for a bath seat that includes a seat back, you'll find options that include both adjustable and removable backs. Unlike bath stools, most bath chairs are not round and can be larger for bigger spaces.
Other bathroom safety options
You can find help for going about your routines with a range of options that include bathroom grab bars, commodes and other toilet accessories. For convenience, there is also a bathroom safety kit that includes a bench, grab bar and hand held shower spray. Other solutions for mobility and home medical needs around the house include canes, walkers and assist rails.