Price and inventory may vary from online to in store.
Drive Medical Home Bed Side Helper Assist Rail White (1 ea)
Sale price is $115 and 99 cents

And Regular price is $139 and 99 cents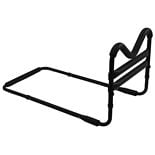 Karman Bedrail Assist with Padded Handles Brown (1 ea)
Sale price is $69 and 99 cents

And Regular price is $108 and 00 cents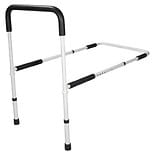 Drive Medical Adjustable Height Home Bed Assist Handle (1 ea)
Sale price is $59 and 99 cents

And Regular price is $64 and 99 cents
Bed assist rails
For help getting in and out of bed safely, browse the selection of bed assist rails here at Walgreens.com. These safety bed rails can offer extra stability throughout the day and at bedtime, as well as help you turn and adjust in bed. You can choose a bed assist rail that is stabilized by the floor, between your mattress and box spring or both. Assist rails from Drive Medical, TFI Medical and Medline can help you rest safe and sound.
Stay safe
For a safe transition in and out of bed, assist bars are a simple solution. Some home bed rails don't require any tools for assembly and can work on either side of the bed for flexibility. Look for a bed assist bar that has a soft grip, fits your bed size and is sturdy enough to support you. Adult bed assist rails are available in different colors, and some are height adjustable.
Patient care products for health, safety and comfort
Find a variety of equipment and tools to aid daily life in the home medical section here at Walgreens.com. Solutions span bathroom safety, diabetes, hearing assistance products and more. There are patient care products that include scrubs, wound care, cleansing and equipment. Over bed tables, hospital gowns, adjustable walking canes and adult bibs can all be found in the equipment area to help make life easier and more comfortable.