Price and inventory may vary from online to in store.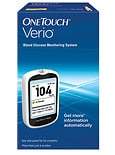 OneTouch Verio Blood Glucose Monitoring System (1 ea)
OneTouch Verio IQ Blood Glucose Monitoring System (1 ea)
Blood glucose monitoring systems
If your doctor recommends that you check your glucose levels daily, blood glucose monitoring systems can help make the process easier. Some glucose monitoring systems include everything you need in one package, including lancets and test strips. With some of these diabetes test kits, you can test at alternate sites, so you don't have to deal with sore fingers. Choose your blood glucose monitoring system from trusted brands One Touch, Bayer, FreeStyle and more.
Checking your blood sugar
There is a range of other diabetic supplies to help you maintain a healthy lifestyle. You can choose between different diabetic monitors as well as test strips such as glucose test strips to help you easily keep track of your blood glucose levels. Blood glucose monitors come in many different sizes and with varying features such as long-term tracking of your glucose levels.
For comfort and convenience
You can get relief from leg fatigue and help promote circulation with foot creams and diabetic socks. There are also travel cases to help you manage your supplies on the go. If you need something to help satisfy your hunger without causing a blood sugar spike, browse our variety of diabetic nutrition supplements. You can also try daily diabetes vitamins made specifically to support your overall health.