Price and inventory may vary from online to in store.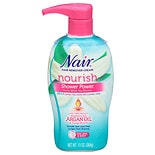 Nair Shower Power Max with Moroccan Argan Oil, Cream for Legs & Body (13 oz.)
$
11
49
$11 and 49 cents
  $0.88

/ oz.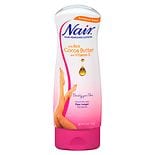 Nair Hair Remover Lotion For Body & Legs Cocoa Butter & Vitamin E (9 oz.)
$
7
99
$7 and 99 cents
  $0.89

/ oz.
Body hair removal creams
Get rid of unwanted hair with body hair removal creams that contain skin-nourishing ingredients. Women's body hair remover lotion works to condition the skin in the underarms, bikini area and legs as it eliminates hair. But body hair removal creams aren't just for women. Men's hair removal cream can get rid of hair on your back, chest, arms or legs. Choose body hair removal treatments from brands such as Nair and Pure Scent-sation to help make hair removal simple and comfortable.
Multiple benefits in one
Besides basic body hair removal cream for men or women, there are creams for sensitive skin to prevent irritation. Others can exfoliate for ultra-smooth skin. When you're pressed for time, use a cream hair remover to get rid of hair and condition your skin while you shower. There are also gentle facial hair removers for women.
Hair removal methods
Other ways to get rid of unwanted hair include facial hair bleach to make hair nearly invisible. For complete removal of even coarse hair, try traditional wax strips for the body or face. We also carry shaving products, as well as many types of electric shavers and trimmers for men and women. To completely condition your freshly smooth skin, browse our solutions for aftershave and face lotions.