Price and inventory may vary from online to in store.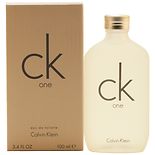 Calvin Klein CK One Eau de Toilette (3.4 fl oz)
Calvin Klein CK One Unisex Eau de Toilette (1 oz.)
Calvin Klein CK One
With a refreshing green tea signature, Calvin Klein CK One is a versatile fragrance for men and women. You can share this unisex fragrance with your spouse or get it just for yourself. CK One can also be a great gift idea, since it can appeal to many different people. Choose the size and type of CK One eau de toilette that you'll enjoy using or giving as a thoughtful gift.
CK One options
The light concentration of fragrance in eau de toilette allows you to use it liberally. You can choose between CK One sprays and splashes depending on how you prefer to apply it. If you're giving this Calvin Klein fragrance as a gift, you can select a single bottle or give a Calvin Klein gift sets that comes with lotion and spray.
More fragrances to choose from
If you enjoy the scent of Calvin Klein CK One, you can browse our selection of other fragrances from Calvin Klein to find a new one for yourself or for a friend. There are more notably masculine and feminine fragrances just for men or women such as Euphoria for women and Eternity for men. You can find eau de parfum sprays as well as lotions for layering your favorite fragrance.